Caregiver Justin Maykel, MD, Colorectal Surgeon Chief, Division of Colorectal Surgery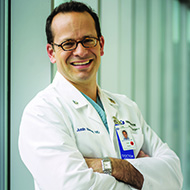 Precision. As a colorectal surgeon, Justin Maykel, MD, is exact, always attentive to each step of the surgical procedure. As a caregiver, he brings this same thoughtfulness to each interaction with his patients and their families.
Described by his office and OR staff as well as colleagues as "empathetic and passionate," Dr. Maykel wants what's best for his patients, always putting their needs first. In fact, although he is a colorectal surgeon, it's common for him to offer nonsurgical options to patients. "I think through the situation from every angle, educate my patients on the treatment options and engage them in the decision making. I believe it helps patients get through a difficult time a little easier," he said. "I put myself in their position and try to take care of them like I would my own family members."
Dr. Maykel's ability to connect with his Central Massachusetts patients stems from his childhood growing up in West Boylston. "I think it's unique to be a surgeon in the community where you grew up," he noted, recalling summers painting houses and stocking shelves and manning the cash register in his family's grocery store. He still lives locally and coaches his sons' games as much as his schedule allows, often running into patients when out and about. In addition, he maintains a strong presence in the community through educational symposiums, radio talk shows and health lectures at area businesses.
And, his connections run deep with his team. As the chief of the Division of Colorectal Surgery, Dr. Maykel is quick to recognize their contributions. "My success at work is all due to my team. My fellow surgeons, the nurses, office and OR staff, and residents – everyone comes together and this allows me to be personally successful," he said.
An advocate for innovation, Dr. Maykel and his team strive to bring new minimally invasive surgical options to patients through the latest technology. "Our goal is to constantly challenge the way this field practices through innovation and research so we can offer more right here than what some physicians in Boston can provide." And, the team passes its knowledge to the next generation of caregivers through the instruction of medical students and fellows who attend academic partner, UMass Chan Medical School.
Patient care, teaching, research, community outreach: It's all in the details, and Dr. Maykel doesn't miss any.
Meet our other caregivers at everyoneeveryday.org.