Ela Zygmunt, Housekeeping Services, UMass Memorial Medical Center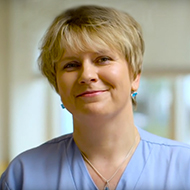 All our caregivers strive to make sure patients and families receive the best care possible. Since 1999, Ela Zygmunt has worked as a housekeeper in UMass Memorial Medical Center's Maternity Center. She helps create a clean, comfortable, welcoming environment for mothers—offering a smile, conversation, and anything else they might need.
"Ela is the type of housekeeper who puts our patients at ease," said Director of Housekeeping Services John Jepsen. "Her instincts are to care for the immediate needs of the patient first and always make sure all the issues are addressed before she leaves. She is pleasant to approach, quick to respond and compassionate in her actions."
Ela emigrated from Poland and has three children of her own, so she understands what patients are going through. "I enjoy talking to new mothers about their kids, about life," she said. "I try to keep a positive attitude and do anything I can to make their stay better." She takes great pride in her work. "It's important to keep everything as clean as possible, to keep patients safe and protected from infections."
It's the interactions with patients and staff that Ela finds most rewarding. "The people here are wonderful," she said. "I feel like I am part of one big team. This is a great place to work."
Those who work with Ela are glad she's one of our caregivers. "Hopefully we have all met someone like Ela in our lives," John Jepsen said. "She is the one who, when you see her face as she enters your room, you immediately relax and know she is here to make things better."
Meet our other caregivers at everyoneeveryday.org.