Elifce Cosar, MD, Cardiovascular Anesthesiologist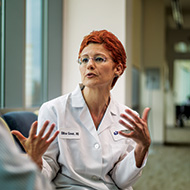 For patients embarking on a health care journey, choosing the right direction – and the right caregivers who will be involved along the way – is vital. Cardiovascular anesthesiologist Elifce Cosar, MD, is an exceptional partner, using her unique expertise to help patients during their journey through complex surgery.
The typical image of an anesthesiologist is someone behind a white mask in the surgical suite, instructing a patient to count backwards from 10.
Yet, for Dr. Cosar's patients, the path to surgery begins in the clinic setting. In the UMass Memorial Health Department of Anesthesiology and Perioperative Medicine, Clinical Vice Chair Cosar teams with her colleagues practicing complex aortic surgery to provide specialized care that reduces the number of appointment in many cases to just one ahead of surgery.
And through a pilot program, the anesthesia team collaborates with urologists to improve care by providing continuity from clinic visit, through surgery to operative care, and even home. This approach provides more opportunities for Dr. Cosar and her colleagues to connect with their patients.
In fact, Dr. Cosar strives to round to check on her patients whenever possible, not a typical routine for an anesthesiologist. She noted, "Our decisions are based on what's best for the patient, so working together as a team to follow them through the health care experience makes a big difference in their outcome. Anesthesiologists do not just get a patient through a procedure; it is about the quality of life after a surgery that counts," she emphasized.
So far, the urology pilot program is working well for patients, and Dr. Cosar and her colleagues are hoping to expand it to other areas of care.
When Dr. Cosar reflected on her career thus far, she said, "At the end of the day, I know I made a difference in a patient's outcome – and that means everything to me."
Meet our other caregivers at everyoneeveryday.org.