Ernie Norton, RN, UMass Memorial Medical Center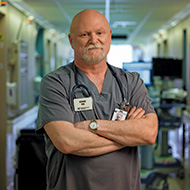 Being a compassionate caregiver can take many demanding forms, and having the strength and stamina to keep up with such a fast-paced environment is a necessity. Ernie Norton, a registered nurse on UMass Memorial Medical Center's University Campus, has a good deal of experience with environments that demand the most of an individual—experience that serves him well as a caregiver.
"I was a medic in the service, and I did a few stints in the Active Army and the Army Reserve. Then I became an RN." Ernie's day-to-day activities include nursing care for seriously ill or trauma patients on a very busy floor, performing ongoing patient assessments and responding immediately to their needs as they arise.
Ernie often mentors younger RNs, sharing his wealth of experience with them and helping them to serve as a bridge between patients and physicians. As far as advice to his fellow caregivers goes, Ernie sticks to the basics: "Just try to listen to people—empathize with them. Listen to what they have to say."
When he's not helping patients, Ernie likes going to Bruins games and theatrical plays with his wife, as well as working out at the gym and keeping physically active. You can find him at the nurses' desk, inpatient rooms, or in the hallways at a WOW, the workstation on wheels. Caregiving is a lot of responsibility, but sometimes, doing a difficult job well is its own reward.
"Sometimes people will come and find me the next day and thank me for my help. Once we had a patient who was here for a few weeks who would always ask if I was on. Seeing people respond to the way I care for them, seeing people get better—that's probably the most satisfying part of my job."
Meet our other caregivers at everyoneeveryday.org.