Georgina (Gina) Gardner, MSN, RN, Pediatric Nurse Manager, UMass Memorial Medical Center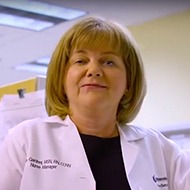 Gina Gardner views the role of pediatric nurse manager as two-fold: "We have two jobs," she said. "We take care of our patients, and we take care of our staff. Because if our caregivers are happy, our patients are going to be happy. That's the mood of our floor."
She and her nursing team care for children who have been admitted to the UMass Memorial Children's Medical Center, including those in the pediatric intensive care unit (PICU). "My day depends on what area needs me most, from the PICU to the pediatric floor," she said. Gina often can be found making the rounds, checking in on patients and their families. "The best part of my days are going into patients' rooms and listening to parents," she said. "I do this no matter how busy I am — even if it's just to say 'hi' and make sure they have everything they need."
This personal touch can mean so much to concerned parents, who appreciate Gina's care and compassion. "I also ask them about their nurse and tell them what great nurses we have here," she said. "The feedback is very positive."
Gina previously served as the hospital's pediatric nurse education specialist. Now she brings her experience as an educator to her role as manager. "It's exciting to work with the new graduates," she said. "You can teach anyone a skill. But caring and compassion — you either have it or you don't. Our pediatric nurses have it. My job is to motivate, educate, mentor ... and to listen."
Gina and her fellow caregivers strive to create an atmosphere of mutual support and positivity, so when they enter a patient's room, they can give that child and their family their best. "Our floor is successful because we work as a team," she said. "The physicians, nurses, housekeepers, food service — we all respect each other. Together, we want to make this the best possible place for pediatric patients to get care."
Meet our other caregivers at everyoneeveryday.org.