Gretchen Acevedo, LPN, Admissions Director, Adult In-Patient Substance Abuse Continuum, Community Healthlink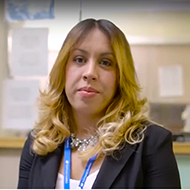 For men and women struggling to overcome substance abuse, meeting Gretchen Acevedo is their first step toward recovery. "There is so much beauty and potential inside our clients, behind the addiction," she said. "We believe in them. We treat them with respect. I take a lot of pride in opening doors and helping them take that first step."
Gretchen oversees the admission of some 6,000 adults a year to the UMass Memorial — Community Healthlink in-patient alcohol and drug detoxification program. She worked as a nurse at UMass Memorial Medical Center before joining Community Healthlink as a detox nurse and later moving into admissions. "We are saving lives, but in a different way," she said.
Each day brings new challenges. Gretchen's job ranges from planning with staff for the day's admissions, to taking intake calls and hospital referrals, to greeting clients in the waiting room, to calling an ambulance for someone who needs emergency help. She once performed life-saving CPR on a man who overdosed.
Sometimes, her job is to talk with clients, to hear their concerns and ease their fears. "We form bonds and build relationships with our clients," she said. "Our goal is to get them medically stable and build the foundation for the next step in their journey," which is often into Community Healthlink clinical stabilization and transitional support services.
Gretchen sees her role as patient advocate not only within the UMass Memorial Health Care system but in the community at-large. "We have great relationships with police departments, emergency responders, and other facilities," she said. She is working to change the stigma attached to addiction and to make sure anyone who seeks help gets it. Her greatest reward is when clients thank her for giving them their lives back. "It's a privilege to know we can be a part of our clients' stories."
Meet our other caregivers at everyoneeveryday.org.
Follow Us on Social
Read The CEO's Blog