Jeff Popp, UMass Memorial Medical Center Police Officer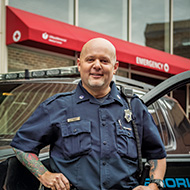 Working as a dispatcher on the graveyard shift on weekends, Jeff Popp got an inside look at the department and organization he would call home for the next 20 years. At the same time, he was studying for a bachelor's degree in Criminal Justice. Next came a year at the Central Massachusetts Chiefs of Police Association Reserve Academy.
Jeff's education and training provided a foundation for his career, but his on-the-job learning has helped him develop his approaches to the myriad of situations he encounters. His goal? "Keep the peace," said Jeff. "You can't go in hot to a situation. You have to provide the calm; treat everyone as a person no matter the situation. Just asking 'what can I do for you?' can make a huge difference to someone." 
On a typical day, Jeff might deal with lost patients or visitors, parking issues, a heated argument or stolen dogs. Stolen dogs?
"A dog was stolen from a women's car in the visitor's garage," said Jeff. "We put up signs all over the hospital campus and around Worcester. A TV station ran the story. It took us five hours but the person who took him brought him back. That was a crazy but good day." 
"My purpose is to keep people safe. If I know that everyone is safe then I know I'm doing my job."
Meet our other caregivers at everyoneeveryday.org.