John DiCicco, RN, UMass Memorial -- Community Healthlink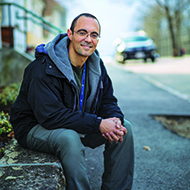 When asked what his job at Community Healthlink involves, John DiCicco refers to his role as "residential RN" providing Community Based Flexible Supports (CBFS) for patients with mental health and substance abuse issues. As a residential nurse, he offers a range of tailored support to about 200 people – largely Department of Mental Health clients – in mixed group homes and apartments.
"The most meaningful part of my job is to help patients live their lives to their fullest potential – or work toward it," he said.
Working with a population of adults with life expectancies about 25 years fewer than most Americans, John uses "primary prevention" to promote better health in his patients; he cares for people who are already less healthy because of poor diet, smoking and lack of activity.
John, a certified personal trainer, former triathlon athlete and Iron Man, is a living, breathing example of the benefits of wellness, and helps his patients become more active through exercise, socializing with others and engaging with the community. He provides opportunities for them to join local hiking clubs, gym groups, group gatherings that encourage integration with others and building relationships with other patients.
Providing advocacy is also a vital part of his role because his patients often have difficulty making health care decisions and seeking support on their own. While the care he provides can often be in a group setting, patients know that they can always pull him aside for one-on-one time, if needed. Likewise, program staff members can contact John for support because, as he says, he's essentially "on call" whenever he's needed.
"I'm a believer that as a caregiver, the goal of well-being is something you always have to keep top of mind to best serve the individual. I believe this drives how I approach my work with my peers and clients."
Those peers and managers are "collaboratively excellent" and "always have our clients' best interests in mind," said John.
And his clients? The residential setting he works within allows him to build long-term relationships with them. "I know them. I talk to the person. I'm here to encourage and create opportunities for them to work with me on their physical and mental health."
Meet our other caregivers at everyoneeveryday.org.