Max Grecchi, UMass Memorial Medical Center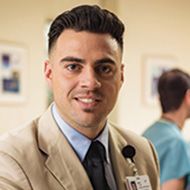 Communication is a vital component of any field, but it's particularly important in health care. Max Grecchi is the supervisor of Interpreter   Services at UMass Memorial Medical Center, where he provides language access services for patients and families, as well as management of the department's staff and payroll. Max recently joined the Medical Center from Marlborough Hospital where he dedicated himself to ensuring that his patients receive the same quality of care as English-speaking patients; dealing with an unexpected hospital visit can be stressful enough, and that stress is only amplified by a language barrier. Luckily, Max and Interpreter Services are here to help.
Max tells the story of a patient whose doctors were having difficulty figuring out what was ailing her. She used Interpreter Services for every interaction, and the team worked hard to ensure that she and her doctors and nurses were communicating effectively. Once the patient improved, she was discharged, and a few days later, her husband came to the hospital to track Max down and thank him in person: "He said our interpreters were always so helpful, always on time. And even when they were dealing with difficult news, we made it easier for them. That kind of thing gives me fuel," Max said.
Max's role takes him all over the place in the hospital as he strives to stay "visible and reachable." This committed approach toward his fellow caregivers and patients means that when they communicate with each other – in any language – it's clear. When communications are clear, care is more accurate and effective, leading to improved health.
Meet our other caregivers at everyoneeveryday.org.