Ricky Knorring, Supervisor, Valet Parking, UMass Memorial Medical Center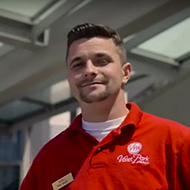 Ricky Knorring and his team of red-shirted parking valets are often the first and last faces patients see during their visits to the UMass Memorial Medical Center – University Campus. "Our job is not only to park cars, but to put a smile on the patients' faces," Ricky said. "If we can make someone's day just a little bit better, that's the most rewarding thing."
As supervisor, Ricky oversees the valets and keeps the cars and employee shuttle vans moving, so patients and staff can get in and out quickly, without any headaches. But for him, it's not all about cars. It's about people.
"Patient relations is number-one," he said. "You meet a lot of patients who are having ups and downs. We're super friendly to everyone and treat everyone with respect." As Ricky noted, small acts of kindness can make a big difference to patients. "We greet them with a smile. We help them with their bags. We make sure they know where they are going. Our job is to make their lives easier."
Ricky commutes 30 miles from his home in western Worcester County to start work at 5:30 am. He greets each day – and each patient – with enthusiasm. "Every day is different," he said. Sometimes he and his staff get to know patients by name. He recalls one man whose two sons brought him in for cancer treatments over the course of several months, unsure of his prognosis. "They finally came out one day and said, 'We're leaving today! We're leaving today!' Which was awesome," he recalled. "It was nice to know they had a good outcome. That's one of my favorite memories of working here so far."
Meet our other caregivers at everyoneeveryday.org.