Joe Fernandez, Behavioral Health Group Leader, Granger 3, Marlborough Hospital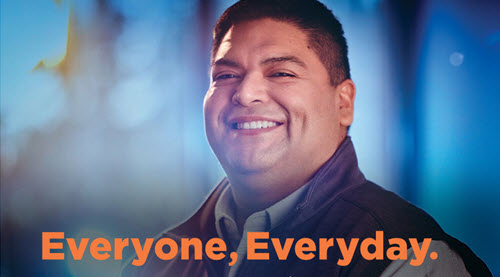 Joe Fernandez likes to kick off each shift with a cheerful, "Let's start this party!" It's important for Joe to maintain a positive outlook with his fellow caregivers and patients, as each day brings its own set of unknowns and challenges. Joe is a Behavioral Health Group Leader and Crisis Prevention Institute (CPI) instructor for UMass Memorial Health – Marlborough Hospital, working on the 20-bed inpatient psychiatric unit. 
Joe is described as the calm in the midst of a storm, always able to defuse difficult situations with patients in need. Some of the patients are homeless, so Joe works with them along a  hierarchy of needs, based on where they are coming from. No matter the patient's situation, Joe sees the whole person, providing the support and treatment they need to heal. His upbeat, engaging manner helps patients feel more at ease. 
"You have to have fun and be creative when providing behavioral health," said Joe, "such as facilitating self-expression sessions for patients. Since it's an inpatient unit, some patients may be there a while. We've created some virtual reality experiences so patients can feel like they are someplace else … like at a beach! I enjoy those aha! moments when patients realize what we're teaching them and helping them through. I also find it rewarding when we come together as a team in tough situations. Every day, I try to do my job differently and better."
Joe's journey began at UMass Memorial Medical Center at the age of 16. He had just received his driver's license, and his mother offered him driving privileges if he volunteered in pediatrics. Caregiving came naturally to Joe, and at 18, he became a patient observer. He later joined UMass Memorial Health – HealthAlliance–Clinton Hospital as a certified nursing assistant. 
After earning his psychology degree, Joe became a mental health counselor at Marlborough Hospital, where his manager mentored him on techniques to help de-escalate difficult situations. Joe recalls handing out snacks to patients, which he found to be a good opportunity to communicate with them. Good communication skills are essential in his line of work. 
Today, Joe meets patients where they are and does all he can to help them improve their lives. He credits his fellow caregivers for the teamwork it takes to keep the unit running smoothly. 
"The diversity of our staff helps support the diversity of our patients and community," Joe noted. "Some of us speak other languages, which helps us further communicate with patients. Our goal is to balance the individual patient. We don't know the end result for our patients, but we need to let them know that this is a safe place to come back to. We want to make sure they have the tools to do what they need to do outside of these walls. Our motto is 'whatever it takes' to take care of the patients and make them better so they can return to their lives."
To read more stories like Joe's, visit everyoneeveryday.org.