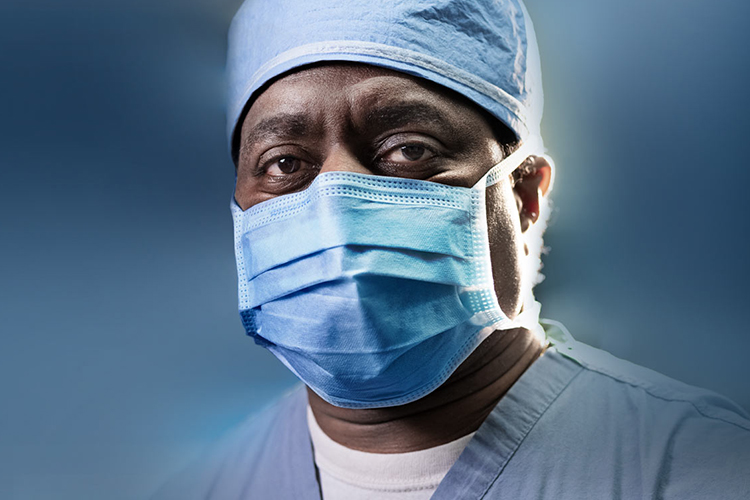 Everyone, Everyday. Relentlessly: Meet Mark Johnson, MD, PhD
As we update our brand name to UMass Memorial Health and launch a new brand campaign, it's time to tell the world who we are, what we do and what we stand for as a health care system. Our relentless caregivers are the inspiration for the update of our new brand name and campaign. Find out more about these caregivers and how it takes everyone, every day working together relentlessly to care for our patients and each other. This week, we interviewed neurosurgeon Mark Johnson, MD, PhD, who reflected on the positive things that emerged from the pandemic, along with what it truly means to be relentless.  
This past year challenged our UMass Memorial Health family like no other — with COVID-19 testing our fortitude and our perseverance, while demanding that we bring our best selves to work every day, no matter the obstacles. Mark Johnson, MD, PhD, Chair of the Department of Neurological Surgery, never doubted for a moment that we were up to the task. 
"Neurosurgery is an interdisciplinary specialty where we work closely with many other specialties, whether it's trauma or neurology or anesthesiology and many others," he said. "So we pulled together. We committed to protect and support one another throughout this crisis. We've emphasized that we're a team, with a sense of family, paying attention to the whole person as a caregiver. Understanding that although we are committed to this fight, we're also vulnerable, under stress, anxious about ourselves, our own health, our families. I think that's what helped us to weather this storm." 
Dr. Johnson specializes in adult brain tumors and hydrocephalus — a buildup of fluids inside the brain. Like his commitment to his fellow caregivers, his dedication to his patients never faltered, despite the challenges of the pandemic. 
"Neurosurgery is a very demanding specialty," he said. "So I come to work every day with a plan of giving it everything that I've got. I envision it as pouring myself out for whatever problem I'm going to face. And to be a physician in every dimension of the word, not only in terms of what I can do surgically with my hands or what prescription I can write, but also in the care, the comfort, the compassion, and the understanding that I can provide to a patient or their family when they need it most. My goal is to provide that total care experience to patients."
It's that unyielding commitment to colleagues and patients that energizes Dr. Johnson — and inspires those around him.
"Dr. Mark Johnson embodies what we mean when we say 'relentless caregiver,'" said Eric Dickson, MD, President and CEO, UMass Memorial Health. "He is not only a highly skilled and accomplished neurosurgeon, research scientist and professor — he is a remarkable human being who gives 100% of himself to his patients, his colleagues, his students and his work. All through the pandemic, his commitment never wavered. And most recently, with vaccine hesitancy and equity being a critical challenge for those of us in health care who are trying to bring an end to this pandemic, Mark stepped up and has been a vocal advocate on this important issue. His positive outlook, dedication to his patients and their families, and commitment to supporting the UMass Memorial Health community make him someone I'm proud to call a colleague and friend."
Dr. Johnson felt the Anthem video captured our spirit of relentless caregiving in a powerful way. 
"Here at UMass Memorial, we have a 'never give up, always be ready' mindset," he reflected. "We are there to stand in the gap and contend for the health and lives of our patients. We are prepared to rise to whatever the challenge may be. Day after day, week after week, year after year, you get up every day and you go in to care for the sick and for those who are hurting and broken or hopeless. Our job is to heal and comfort and give the gift of health and life to people, and to find new and better ways to do it. It is a relentless pursuit, and it never ends."   
Dr. Johnson directs the UMass Chan Medical School residency program in neurological surgery and runs an NIH-funded research lab, studying brain tumors and adult hydrocephalus. "I spend my nights, weekends, early morning hours reviewing data, planning new experiments, writing papers, and applying for grant funding to keep our research going," he said. "My hope is that we will make additional discoveries that will improve the lives of others, which is why I went into medicine in the first place."
The coronavirus pandemic, Dr. Johnson believes, demonstrated what science and medicine can accomplish for the common good. "There are lessons learned about how effective we can be when we work together and really focus on a goal," he noted. "We need to be able to apply that same focus to many of the other diseases and illnesses and problems that we've been facing, but perhaps have not had the hospital, the community, the nation and the world galvanized the way it was by COVID-19."