Kimberly Ebb, MD, Hospitalist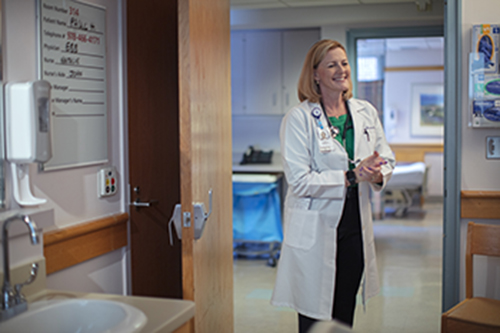 Having grown up in Leominster, I feel very connected to this community. I have some kind of connection to almost every patient I take care of. And I want to give back to my community.
At our Leominster Campus, we see lots of different cases, from chronic obstructive pulmonary disease (COPD) to substance abuse. Patients and families don't always understand what is happening to them or their loved one ... and good communication is so important. It helps me to take a few minutes at the bedside to listen to their concerns, without my own agenda, as there may be circumstances outside of the hospital that are impacting their health. So it's important to listen to where they are coming from and what they're dealing with, and try to incorporate that into our plan to help make them well again.
Within our team of 15 hospitalists, listening also plays a key role. We have a weekly meeting where we bring up concerns of the department. Listening helps us exhibit respect for each other. You can't fix a problem unless you actually listen to the concerns of the person bringing the problem. The Standards of Respect are a good reminder to step back and listen to each other. We all have the same goal: our patients' health.
If you could have one superpower, what would it be? It's a superpower I really hope I have: to see the good in everyone.
Meet our other caregivers at everyoneeveryday.org.
Follow Us on Social
Read The CEO's Blog