Thuy Le, CT Scan Technologist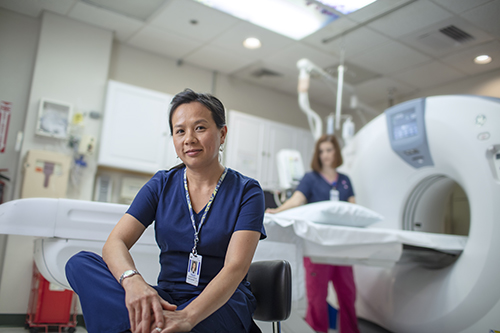 One of the reasons I accepted the job at Marlborough Hospital is because it's small — warm and cozy. I like the fact that everyone knows each other.
Most CAT scans are very short, so I don't really have time to form relationships with patients, but I do my best. Many patients are anxious when they come to see us, so I always smile, and talk softly, kindly and slowly to relax them. When they leave with a smile, I know I made a difference.
Clear communication is important in our field, but because I usually work with emergency room staff, there isn't always a lot of time and sometimes information is not clear. When that happens, we make a point of going over everything so that we know we are on the same page.
I think the Standards of Respect are important because they help us to be better caregivers. For me, meeting those standards happens in many ways, but it always starts with kindness and compassion.
Meet our other caregivers at everyoneeveryday.org.