Ahmet Shalla, University Campus Project Worker, Housekeeping Services, UMass Memorial Medical Center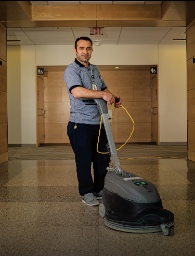 Ahmet Shalla is well known as a project worker with a passion for his profession. "Ahmet is consistently upbeat and energized about his work," said John Jepsen, Resident Regional Manager of Housekeeping Services. "He manages to be productive but engaging in all he does."
As a caregiver, Ahmet strives to create a clean, safe and comfortable environment. "We all work as a team with the doctors and nurses to care for the patients," Ahmet said. He understands that coming to the hospital can be stressful, so he strikes up friendly conversations with the people he meets. "I talk to the patients about the weather or sports to help them feel more comfortable," he said.
Housekeeping staff can count on Ahmet to do any job that's asked of him. Jepsen recalls the time the bathroom floors needed steam cleaning—a strenuous, monotonous job. "Ahmet showed up and just asked for the list of rooms that needed to be done," Jepsen said. "When I showed concern that it may lead to a back strain and he needed to take a short break every hour, Ahmet responded, 'I do. That is when I talk to the patient and make sure they know that if they need to use the bathroom, I will make sure it is safe for them by removing my machine.'"
Ahmet came to the US from Kosovo and has worked at UMass Memorial Health for four years. He enjoys working in the Children's Medical Center best. "I have kids so I know what it is like," he said. "This is like a second home for me, so I want to help the patients and their families feel more at home here."
"Ahmet is truly an ambassador for our department," Jepsen said. "He was the first one to volunteer his time for the Worcester Area Department of Children and Families' holiday party that was held for local children in need—an event that was not even held on the campus where he worked. His love of life and compassion for our patients is boundless and commendable."
Meet our other caregivers at everyoneeveryday.org.