Consolee Numukobwa, Patient Care Associate (PCA), 6 West Hematology/Oncology, UMass Memorial Medical Center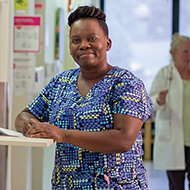 Consolee Numukobwa is described by her fellow caregivers as "a wonderful example of our system goal of Best place to give care, Best place to get care." She's a patient care associate (PCA) in the in-patient oncology unit at UMass Memorial Medical Center – University Campus. Consolee brings a smile and anything else patients need to make their day better. "Sometimes I get close with patients and their families," she said. "Cancer can get tough. It's a hard situation for some patients, but I try to give them the best care I can."
The role of a PCA demands energy, attentiveness to patients' needs, and the ability to think on your feet (literally). "First thing when I come to work, I check the assignments, then check with the previous PCA and the nurse to get a report on patients to learn how to assist them," Consolee said. "Then I go to patients room by room, tell them about myself, and ask if they need anything." This can mean a bathroom break, a glass of water, or help with breakfast. She makes sure the call button is within reach, knowing that's important to patients.
Consolee is involved in unit based council to learn and share best practices. She works hard to support her fellow PCAs as well as doctors and nurses on the unit. "If someone needs something, I will do it for them," she said. "We all work as a team to care for our patients. UMass Memorial is a great place to work. This is like a second home for me."
Consolee came to the US from Rwanda in 2002 and now calls the Worcester area home. She joined the Medical Center's Memorial Campus staff in 2004 before transferring to the Medical Center's University Campus in 2013. Some patients call her "Connie" for short, but she doesn't mind. She recalls one patient who sang "You Are My Sunshine" whenever she walked into the room. "Some of our patients are very sick, but it's our job to listen to them and be on their side," she said. "We give them extra care and provide moral support."
Meet our other caregivers at everyoneeveryday.org.