David Lyons, MD, Cardiologist, Cardiovascular Medicine, UMass Memorial Medical Center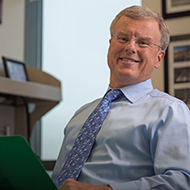 Being a good cardiologist takes lots of heart. Dr. David Lyons brings plenty of that to his work as a cardiologist at UMass Memorial Medical Center – University Campus. He enjoys establishing long-term relationships with patients. For those he meets in an acute state, Dr. Lyons helps them "ride through the storm" of their cardiac episode. He often follows patients' progress over many years. "I was always drawn towards cardiology since my early training," he said. "It is a constantly evolving field that combines technical expertise and innovation with sound clinical skills and judgment. It's very gratifying to help guide patients through the cardiovascular challenges they face and to help them make interventions that will prevent further problems down the road."
Dr. Lyons served in private practice for more than 20 years at the Medical Center's Memorial Campus before moving to University Campus. He provides ongoing care for cardiovascular patients and those with coronary artery disease, and he provides consults for new patients referred into the clinic. "My cardiovascular practice ranges from the acute problems and concerns young adults have to the chronic and difficult cardiac problems that our geriatric population faces," he said. "Lifestyle, exercise and diet all play key roles in promoting cardiovascular health and well-being, and should all be important parts of every patient's long-term treatment plan."
Dr. Lyons enjoys collaborating with his fellow caregivers in the Department of Cardiology. "We can work together and benefit from that atmosphere [of caregiving]," he said. "I feel very privileged to be part of an extremely dedicated and integrated cardiovascular team, which includes physicians, nurse practitioners, cardiac nurses, medical assistants and clinical support staff who all work closely together towards one goal—delivering the best cardiovascular care possible to all of our patients."
Patients describe Dr. Lyons as "a good listener," "very experienced and knowledgeable," "has a great personality," and "makes you feel like you're visiting an old friend." It's this easy-going manner that gives patients confidence that with Dr. Lyons on their team, everything will be OK. "I think the most rewarding aspect of my work is being able to get to know patients and their families over time, helping them to get through difficult times and challenges, and then encouraging and monitoring their progress as they move ahead with their lives."
Meet our other caregivers at everyoneeveryday.org.