Dennis Goguen, LICSW Caregiver UMass Memorial HealthAlliance–Clinton Hospital Clinical Social Worker, Geriatric Psychology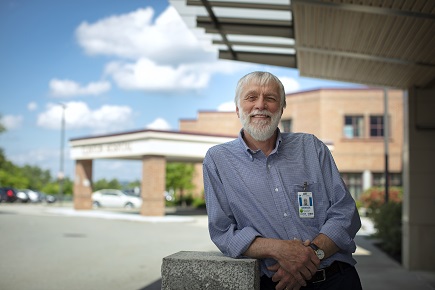 Being a good communicator means treating everyone with respect. It also means treating everyone as a person—not just a patient with dementia or mental illness. I listen intently to what our geriatric patients are saying to find out what they really mean, as they may have trouble communicating and understanding. Their family may not understand what they're saying, but as a social worker, you have to.
I am very honest in my communication with families, as I try to help them understand what is happening cognitively to their loved one. I ask family members what they were like before they came to us, to help me get a sense of their personality and better understand them as a person. I spend time communicating with families because as social workers, we are helping them, too.
It's a constant loop of communication with patients, their families, and community resources so we make the right connection. I never say I don't have time for someone. You can always make time, even five minutes. Be respectful, honest, and listen. And don't assume anything.
Meet our other caregivers at everyoneeveryday.org.