Dmitry Shcherbakov, Patient and Equipment Transporter, UMass Memorial Medical Center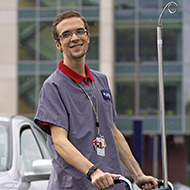 In 2012, Dmitry Shcherbakov found himself at a crossroads. He'd left art school and wasn't sure what to do next. His mother suggested he volunteer at UMass Memorial Medical Center, where he was brought on as a volunteer patient transporter. "I was quick on my feet and got everybody where they needed to go quickly and safely," Dmitry said. That turned into a per-diem job, then part-time and eventually full-time employment. Now he can be found transporting patients and equipment at University Campus, throughout the hospital as well as the Ambulatory Care Center.
As a caregiver, Dmitry understands patients being transported can be nervous, even afraid. That's why he goes the extra mile to put them at ease. This can mean adjusting a patient's bed, offering them another blanket, or just listening. "I like to take a hands-on approach," he said. "I grab the linens and get people settled into their mode of transport while the secretaries and nurses get their paperwork prepped. We try to keep people comfortable. That's our number-one priority."
Dmitry likes to keep things moving, but he'll gladly slow his roll if he sees an opportunity to help. "Sometimes we need to do a little extra to grease the gears, such as removing extra beds from hallways that might block access," he said. If a fellow transporter needs help, Dmitry will lend a hand. "It's the little things, such as giving directions to someone who is lost or unsure where to go," he added. "No one is better versed in the lay of the land than patient transporters."
Dmitry's colleagues recall an incident where a woman in the parking garage was having trouble getting her mother into her car. Dmitry was alerted by a passerby and sprung into action. He and another employee helped ease the woman into the car safely, avoiding a fall. That was no big deal to Dmitry—but it was to the family he assisted. His supervisor Debbie Cox said, "For this and the many other incidences of kindness, compassion, and just getting the job done right the first time, Dmitry deserves to be recognized as a true caregiver!"
Meet our other caregivers at everyoneeveryday.org.