Donald (Don) Smith, Investigator, Compliance Department, Community Healthlink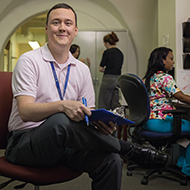 Don Smith has worked at UMass MemorialHealth – Community Healthlink (UMMH-CHL) for more than 15 years, serving the last five years as Compliance Manager. He's since moved into the role of investigator—a sensitive job that demands fairness and the ability to consider all sides of a story. UMMH-CHL serves clients in Central Massachusetts with mental health and substance misuse issues, and Don is dedicated to doing his part to ensure they receive quality care. When a client files a complaint regarding mistreatment or abuse at any of the UMMH-CHL program sites, Don is called in to investigate.
"I can be found investigating issues at our program sites, meeting with persons served, interviewing staff and clients, and attempting to determine if violations of client rights or policies have occurred," Don said. "Otherwise, you will find me at my desk answering calls and responding to emails." Don is a former residential counselor, so he understands the demands of the residential care environment, as well as the dynamics of the staff–client relationship. He strives to make sure all opinions are heard, and if evidence supports the complaint, Don takes appropriate action.
Don's fellow caregivers say this about him: Don Smith is a great role model who always goes above and beyond. He is an effective leader who is kind and fair [and] can be counted on to help anyone, anytime, throughout the organization. Don is trusted and respected by his colleagues.
That trust is essential both within the Compliance Department and the greater UMMH-CHL organization. "I am in the heart of conflict," Don said. "It can be pretty stressful. But I have a good support network of family and friends, and my colleagues here at UMMH-CHL keep me focused. I try to work with our programs, our staff, and our clients to leave people feeling satisfied going through the complaint process. We are all committed to seeing our quality of care improve for our clients."
What keeps Don going every day? "It's my love of human services and a desire to help others, and especially the populations that we work with here at UMMH-CHL."
Meet our other caregivers at everyoneeveryday.org.