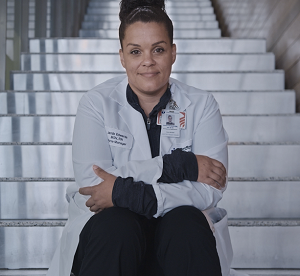 Everyone, Everyday, Relentlessly.
In the recently released UMass Memorial Health Care Anthem video, dozens of caregivers were filmed to help explain to the world who we are, what we do and what we stand for as a health care system. Find out more about these caregivers and why they were chosen to be in the video to demonstrate how it takes everyone, everyday working together relentlessly to care for our patients and each other. This week, we feature Nurse Manager Jamie Edwards, MSN, RN, from Employee Health Services at the Medical Center. 
When she isn't performing her duties as a nurse manager in Employee Health Services, Jamie Edwards, MSN, RN, is busy saving the world one dog at a time with Save One Soul Animal Rescue League. Between being a foster mom there and nurse manager at our Medical Center, Jamie is a phenomenal caregiver in more ways than one. "I feel a great sense of accomplishment when I see the dogs' transition from skittish, scared little animals to trusting, flourishing members of a family. Such an AWESOME feeling!"
She feels that same sense of accomplishment when she sees her team come together. For Jamie, teamwork is an essential part of the job. Whether it's making sure her fellow caregivers' goals are aligned or working together to promote a safe work environment, she focuses on making sure everyone is fully understood. It's about taking the time to actively listen to an issue a caregiver might come to you with or making sure someone knows when they have done an excellent job. Jamie noted, "Sometimes, we just need to be heard."
Her co-manager, Stacy Keddy, RN, noted, "Jamie's leadership skills are exceptional. She treats everyone with compassion and dignity, creating a culture of safety in the workplace." A true team player with a passion for engaging and motivating those around her, Jamie embodies what it means to be a caregiver at UMass Memorial. 
Recently, Jamie was featured in our UMass Memorial Health Care Anthem video which honored caregivers from across our health care system. She believes the video was a beautiful tribute to our health care heroes and the deep impact we have on our patients and their loved ones. After seeing the video, she said, "I am proud to be a member of the UMass Memorial team!"