Jenifer Lightdale, MD, MPH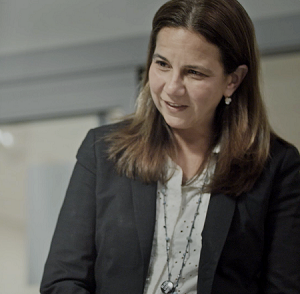 Everyone, Everyday. Relentlessly.
In the recently released UMass Memorial Health Care Anthem video, dozens of caregivers were filmed to help explain to the world who we are, what we do and what we stand for as a health care system. Find out more about these caregivers and why they were chosen to be in the video to demonstrate how it takes everyone, everyday working together relentlessly to care for our patients and each other. This week, we feature Jenifer Lightdale, MD, MPH, who practices pediatric gastroenterology at UMass Memorial Children's Medical Center.
Despite the extraordinary challenges of being a caregiver during a pandemic, Jenifer Lightdale, MD, MPH, said her relationships with patients and families have grown even stronger. 
"COVID-19 was like a meteor hitting the earth," said Dr. Lightdale, Division Chief, Pediatric Gastroenterology, Hepatology and Nutrition, and Vice Chair, Department of Pediatrics, UMass Memorial Children's Medical Center. "Everything changed all at once. After practicing pediatric GI for over 20 years, I very quickly had to learn a whole new set of skills, including how to feel comfortable providing care without necessarily having those face-to-face interactions that we took for granted." 
Like so many caregivers, Dr. Lightdale adopted telehealth as part of her practice — offering patients and families virtual visits, as needed. "It's almost like making house calls," she said. "I've learned a lot about my patients and what makes them comfortable. It's been a year of learning and constantly re-evaluating what's going on and trying to make the right decisions."
This resilience, adaptability and relentless determination to provide compassionate, patient-centered care are at the core of all that we do, every day. For Dr. Lightdale, these caregiver qualities shone through in the UMass Memorial Anthem video. "You could really feel the sense of determination reflected across the entire organization in getting through the coronavirus surge," she said. "The video was amazing. It was inspiring."    
Her continued commitment to her patients and colleagues inspire those around her. 
"Dr. Lightdale is exceptional," said fellow UMass Memorial Health Care pediatrician Cornelius Tyrrell, MD. "She is my go-to GI specialist that I look to when I have my most difficult diagnostic [challenges]. She is a tremendous resource and a national expert. She also has a wonderful bedside manner and her patients love her." 
Dr. Tyrrell describes Dr. Lightdale as "a fantastic colleague" who always puts her patients first and one whose dedication doesn't stop at the end of her shift. "Recently, she contacted me on a Sunday morning because she had been thinking about a patient of hers all night and wanted to admit them for a specific diagnostic image," he recalled. "She was not on-service, but she is always committed to her patients and their well-being."
When she's not on duty, Dr. Lightdale enjoys taking walks with family pooch Tuukka (a poodle mix named for Boston Bruins goalie Tuukka Rask). "He's our first dog ever," she said. "He's been a wonderful member of our family and frankly, my endorphin rush at the end of the day."
Dr. Lightdale remains optimistic for the future as UMass Memorial Health Care fights to turn the tide on COVID-19. "Leadership here did a great job saying they were going to take it on," she reflected. "They led us all very positively, with a sense of we can handle this as an organization. I think that can-do attitude pervaded everywhere and brought people together in a really nice way. The silver lining is we will come out of it stronger without a doubt — stronger together, as they say."