Kathryn Wall, MSW, LICSW, Clinician, School Support Services, Community Healthlink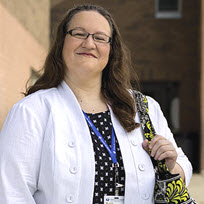 Kate Wall recalls the mentors she had growing up in Western Massachusetts—adults who offered support, guidance and encouragement during her formative years. "My mentors believed in me," she said. "I wanted to do the same work to help kids achieve their potential." As a clinician for UMass Memorial Health – Community Healthlink, Kate provides school-based individual and family counseling services to middle and high school students in southern Worcester County.
"Life can be difficult," said Kate, who provides counseling to students referred to her by their guidance offices, teachers, or principals. She works with students on "empowerment, positivity, strength building, and problem solving, helping them learn coping skills and build resiliency." She also helps students with stress reduction, as the pressures of peer-group politics—combined with the physical and emotional changes adolescents experience—can create a stressful school environment. "Skills they learn in counseling, they learn for the rest of their lives," Kate said. "It's not about fixing people. It's about helping students be the best version of themselves."
Kate sees students growing up in families affected by poverty, depression, substance misuse and violence. She provides grief counseling to schools when a staff member or student dies due to illness, accident, or suicide. This work can be challenging, so she and her fellow Community Healthlink caregivers rely on each other for support. "I couldn't do this job without the support of my colleagues," she said. "We see clients at their best and worst, during triumphs and tragedies. We turn to each other for support and perspective."
Kate also helps students celebrate their achievements and plan for their future. Her most gratifying moments are when students come back to say thank you. "I love when kids return to school after graduation to say, 'I followed through on my plan and I'm pursuing my dream and working and going to college,'" she said. "It's amazing to help kids exceed their own expectations. They come to counseling and their perspective on the world changes. We help them do more than they thought possible."
Meet our other caregivers at everyoneeveryday.org.