Kavita Babu, MD, Emergency Medicine, UMass Memorial Medical Center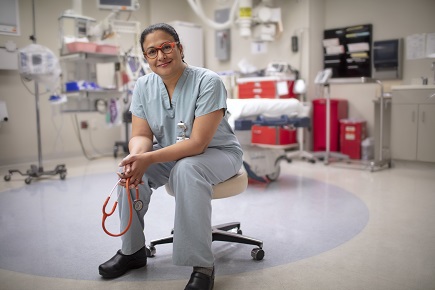 Being a good team player in emergency medicine means listening carefully for information that's provided from a variety of sources — whether it's the patient, their family, any member of our care team or consultants. All of those details are critical to providing exceptional care in a highly stressful, chaotic environment.
The Emergency Department provides a close-knit environment, with all hands on deck. Doctors, nurses, pharmacists, secretaries, transport and housekeeping staff ... we're all one team. We also interact with the fire department, EMS, the police department, and social service agencies. As an emergency physician, you interact with all the hospital specialties, asking people to weigh in at all hours of the night. So, teamwork is integral to what we do. It respects our individual roles while allowing people the opportunity to make their own recommendations and resolve issues together.
The Standards of Respect set clear expectations for professional behavior — whether interacting with colleagues or patients. They help us be our best selves by removing barriers to communication and creating a collaborative and collegial model that puts the patient first.
If you could have one superpower, what would it be? That's easy. I'm an emergency doctor. It would have to be super speed!
Meet our other caregivers at everyoneeveryday.org.