Kelly Gosselin, RN Caregiver UMass Memorial HealthAlliance–Clinton Hospital Oncology, Infusion Suite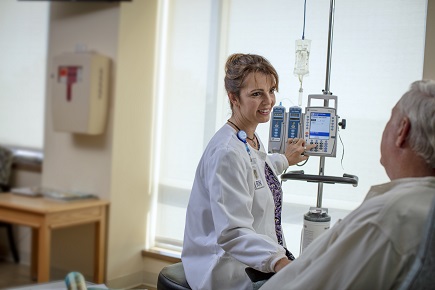 Fostering a spirit of teamwork in my day-to-day interactions starts every morning with a smile and positive attitude that I would like to think are contagious! We start our day with a morning staff meeting to get an overall view of clinical goals and expectations. It provides a time to express past and present concerns, listen to ideas and provide opinions on what may work best.
Every employee here is equally important and part of the Cancer Center team. We all have a purpose. We are also aware of the importance of caring for one another. This is not an easy job. It can be quite stressful for patients, families, friends and caregivers. It's our goal to give patients all we have, but to take care of ourselves as well. It's important to be able to lean on each other.
Advice for being a team player? Treat others the way you want to be treated. Be mindful of your words and actions. Help others if you want to be helped. Be respectful and kind if you want the same in return.
Meet our other caregivers at everyoneeveryday.org.