Theresa Oliveri, RN, MSN, Clinical Coordinator/Nursing Education Specialist, 7ICU, UMass Memorial Medical Center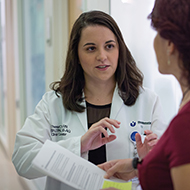 Theresa Oliveri has served as a bedside nurse and is now the Clinical Coordinator/Nurse Education Specialist in 7ICU at UMass Memorial Medical Center – University Campus. This Medical/Pulmonary Intensive Care Unit provides critical care for adult patients with pulmonary failure, sepsis, liver failure, and other serious and life-threatening conditions. Theresa began her journey in healthcare as a nurse's aide. She worked her way through nursing school where she obtained a Masters Degree as a Clinical Nurse Specialist. She continued on to earn advanced certifications in her specialty which has helped her care for patients in such an intense environment.
"I love helping people, that's why I'm a nurse," she said. "In my administrative role, I'm a liaison between the staff nurses, the patients and administration. I'm able to articulate patient and staff needs to ensure we have what we need to provide our critically ill patients with the best care possible."
Theresa is dedicated to advancing evidence-based practice and encouraging other nurses to pursue advanced certification. As a caregiver with vision, Theresa identified a need within the UMass Memorial Health system to prepare staff nurses interested in pursuing their CCRN® (critical care nurse certification). She teamed up with her senior nursing colleagues and created a review course to help nurses prepare for this advanced certification. She now teaches an average of 45 nurses per course.
"There's nothing else like it in this area of the state," said Theresa, noting the CCRN Review Course is attracting nurses from outside of UMass Memorial Health. "By helping an entire team of nurses, I can impact the lives of multiple patients a day," she said. Theresa wants to raise awareness about the importance of critical care nursing, noting it's a complex and challenging field. "It's exciting to be part of helping nurses on the front lines receive their critical care certification. It's important for patients and for ourselves."
Meet our other caregivers at everyoneeveryday.org.