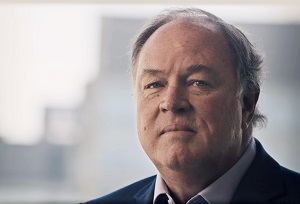 Everyone, Everyday. Relentlessly.
In the recently released UMass Memorial Health Anthem video, dozens of caregivers were filmed to help explain to the world who we are, what we do and what we stand for as a health care system. Find out more about these caregivers and why they were chosen to be in the video to demonstrate how it takes everyone, everyday working together relentlessly to care for our patients and each other. This week, we feature Senior Vice President of Community Practices William Corbett, MD, who practices internal medicine at Shrewsbury Primary Care.
"Seeing patients is the highlight of my week," said William Corbett, MD, a doctor of internal medicine at Shrewsbury Primary Care. Dr. Corbett graduated from UMass Memorial Chan Medical School in 1983 and has dedicated himself to compassionate patient care ever since. "I've known some of my patients for 25 or 30 years," he said. "I've cared for generations of families. My patients are like family. It's a great relationship." 
That strong connection between caregiver and patient has become even more critical since COVID-19 has disrupted all of our lives. When the pandemic started, Dr. Corbett offered telemedicine services when in-person patient visits weren't practical or possible. But now he's back to a nearly full patient schedule. Both Dr. Corbett and his patients are grateful for that. 
"What drives Bill Corbett is his love for his patients, and they love him right back," says Stephen Tosi, MD, Chief Medical Officer/Chief Physician Executive, UMass Memorial Health and President, UMass Memorial Medical Group. "His care and compassion are what define Bill and what make his patients stick with him, because they feel that he cares for them as if they were family. To Dr. Corbett, they are." 
Dr. Corbett believes that excellent patient care goes hand in hand with caregivers supporting each another — everyone, everyday, relentlessly. 
"It has been a very challenging year for anybody in health care, but I think UMass Memorial has really distinguished itself with the way it treated its employees," he said. "There were no layoffs or pay cuts, and we're even going to pay year-end bonuses this year, which is incredible. We've also been leaders in developing treatment options, vaccines and protocols. And because of all this, our reputation both locally and across the country has been enhanced."
Dr. Corbett feels the Anthem video portrays UMass Memorial Health's commitment to patients — and to each other.  
"Number one is we've shown that we provide outstanding care for our patients," Dr. Corbett said. "But just as important is the support we've shown our employees. Our slogan goes, 'Best place to give care and best place to get care.' And we've actually shown that this year. As long as I've been here, I've never been more proud of the way the institution is treating its employees and providing care." 
Dr. Corbett is an avid golfer, which helps him unwind from his rigorous schedule. He toggles between Shrewsbury, where he sees patients three afternoons a week, and Biotech Park, where, as Senior Vice President of Community Practices, he works on managing the Community Medical Group, physician recruitment, electronic medical records, telemedicine and other initiatives.  
Dr. Corbett offers this advice to UMass Memorial caregivers as we continue to navigate these turbulent times: "Listen and be thoughtful and understand the family pressures [caregivers are] having, in addition to the normal work pressures. We've got employees who have family members ill with COVID and a lot of young physicians who have children that are now home from school, creating very difficult times. So I think we've got to be open to creative solutions for these people. It isn't one size fits all."