In keeping with its vision of becoming "the best place to give care and the best place to get care," UMass Memorial Health Care has launched a significant upgrade initiative on the Memorial and University campuses of its academic medical center in Worcester. Based on input from patients and caregivers, the project will enhance the privacy, safety and comfort of UMass Memorial patients and their families through the renovation of existing spaces as well as some new construction.
"We've listened to our patients and caregivers, looked at best practices, applied LEAN management principles, and used innovative thinking and creative design to create an environment that will improve the experience of our patients and caregivers," said Patrick Muldoon, president of UMass Memorial Medical Center.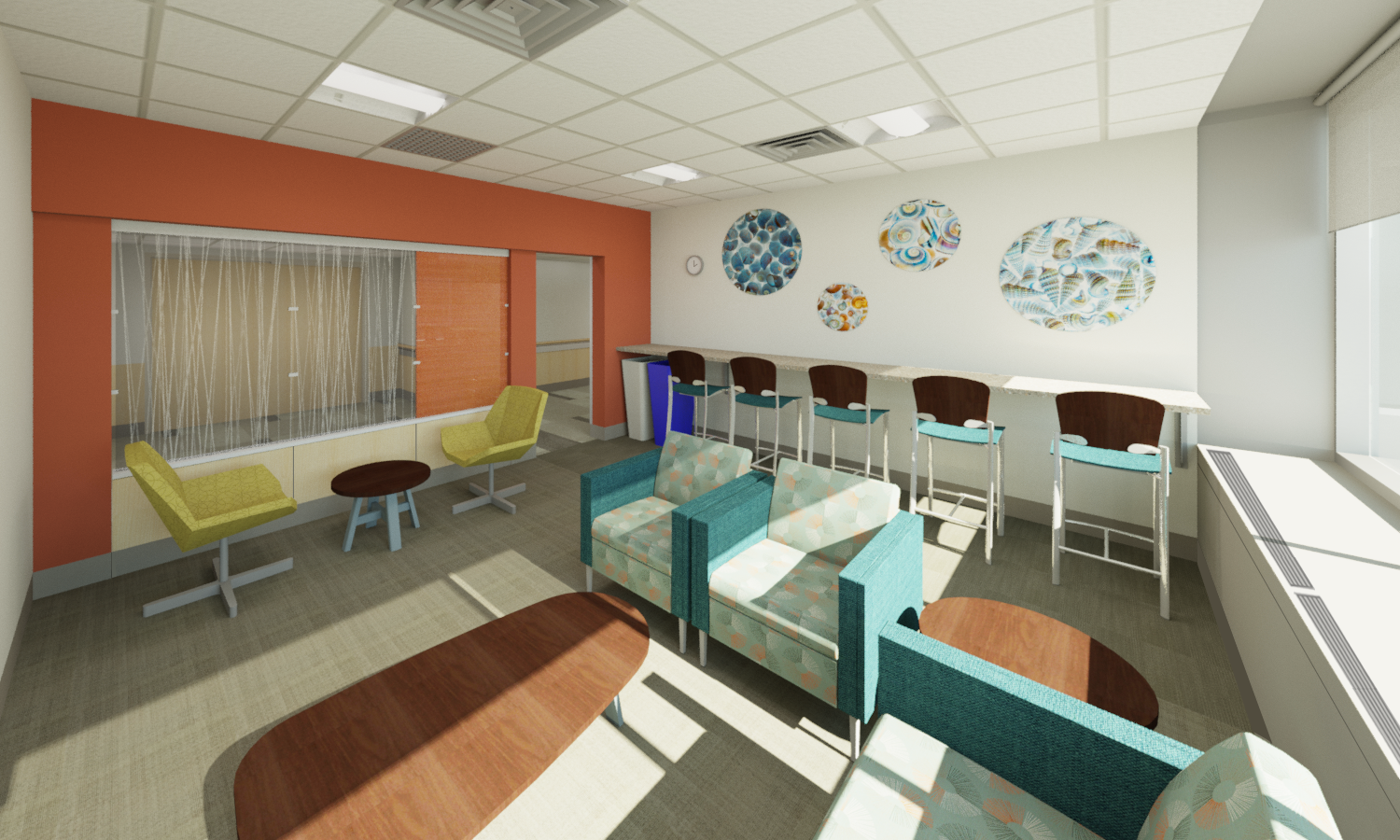 Rendering of new inpatient waiting room at UMass Memorial Medical Center, University Campus
"Our two campuses currently are very different," said Kathleen Hylka, director of strategic space planning at UMass Memorial and a member of the project leadership team. "The Memorial Campus has buildings that date back to the 1930s, while the University Campus opened in the mid-1970s. We want to standardize across both  campuses, and upgrade and refresh the spaces cost-effectively without tearing all the walls down."
Improvements will be made to individual patient rooms on both campuses as well as to existing care units and waiting areas. New care spaces—including a dialysis unit, a critical decision/observation unit and an intermediate care unit—will be incorporated into the University Campus.
Notable changes to public areas of the Memorial Campus will enhance how patients and visitors traverse the building. Modernized, streamlined pathways will connect directly to a dynamic new atrium. This space will feature an ornamental staircase and skylights that will both physically and visually connect the ground floor and the first floor, and a new seating area with an inviting fireplace that will provide a comforting and welcoming atmosphere. Elevator lobbies will be upgraded with improved lighting and more vibrant, synchronized signage for easier navigation.
Thoughtful design details for upgraded patient rooms on both campuses include more private, hotel-like spaces that feature inspiring, original artwork, soothing colors complimented by wood-grain accents and softer flooring, as well as even easier access to charging stations for personal mobile devices. Quiet rooms, purposefully placed observation windows and lighting control will ensure nighttime privacy; select patient rooms will feature circadian lighting, which simulates natural light.
The redesign will also make the work environment more efficient for caregivers by utilizing materials and finishes that are easier to clean and maintain; improving storage to reduce clutter; and incorporating ceiling lifts in all patient rooms for patient and staff safety. Nurse stations will be restructured into team areas to provide adequate meeting space for care teams to plan patient care. These upgrades will ensure compliance with all building and regulatory codes, including those of the Americans with Disabilities Act (ADA).
In all, approximately 150 patient rooms at the Memorial campus and 164 patient rooms at the University campus will be upgraded. In addition, multiple waiting rooms at both locations are being redesigned to provide various activity zones for watching television, conducting family conversations and reading; counters for laptop use will also be included.
This renovation project began last summer with refurbishment of the West 3 Medical-Surgical Unit at the Memorial Campus, and is expected to be a six-year effort. How does a busy medical center undertake such a major project without disrupting patient care?
"It's a challenge, but that's why the duration of the project is as long as it is," Hylka said. "For example, at high-census times like flu season, we won't be doing work in patient rooms. And we're working with our contractors to have them preassemble as much material as possible off site, reducing on-site installation time.
"Ultimately, we'll create more functional spaces that balance aesthetics with improved safety, cleanliness, comfort and efficiency for the people who give and receive care," she continued. "The quality of our facilities will match the quality of our care." 
Numerous naming opportunities for this renovation project are available.
For more information, please contact Susan Mouradian in the Office of Advancement:
508-856-3526, susan.mouradian@umassmemorial.org