Dr. Jonathan Kay Named Honorary Member of Prestigious European Medical Body
Contact: Tony Berry
508-793-5394 (office) 774-317-0422 (cell)
anthony.berry@umassmemorial.org
WORCESTER, Mass. –The European League Against Rheumatism (EULAR), an organization working to lessen the impact of rheumatic diseases in individuals, has elected UMass Memorial Medical Center rheumatologist Jonathan Kay, MD, as a 2018 honorary member. The distinction was officially awarded to Dr. Kay during the EULAR congress held this summer in Amsterdam. EULAR represents those suffering with arthritis/rheumatism, the health professionals fighting the condition every day and scientific societies of rheumatology of all the European nations. 
"I am honored and humbled to receive this distinction from EULAR," Dr. Kay said. "I have been fortunate to work alongside my colleagues in Europe as we pursue our common goal of improving the lives of people affected with arthritis and autoimmune diseases. We aim to provide both patients and health care professionals with the knowledge that helps them to better address these potentially debilitating conditions."
Dr. Kay is a Fellow of the American College of Rheumatology and of the American College of Physicians. He has been a principal investigator on over 50 clinical trials of novel therapies for rheumatoid arthritis, axial spondyloarthritis, gout, and osteoarthritis. Dr. Kay has been involved in the development of biosimilars to treat rheumatic diseases, lectures internationally and is the author of more than 160 publications and book chapters.
"We would like to thank you for your outstanding engagement in different roles in EULAR," wrote the organization's executive director Dr. Julia Rautenstrauch, in the letter informing Dr. Kay of his selection. He is only the third American to receive this recognition by EULAR since it was first awarded in 1973.
For more information on EULAR please visit here.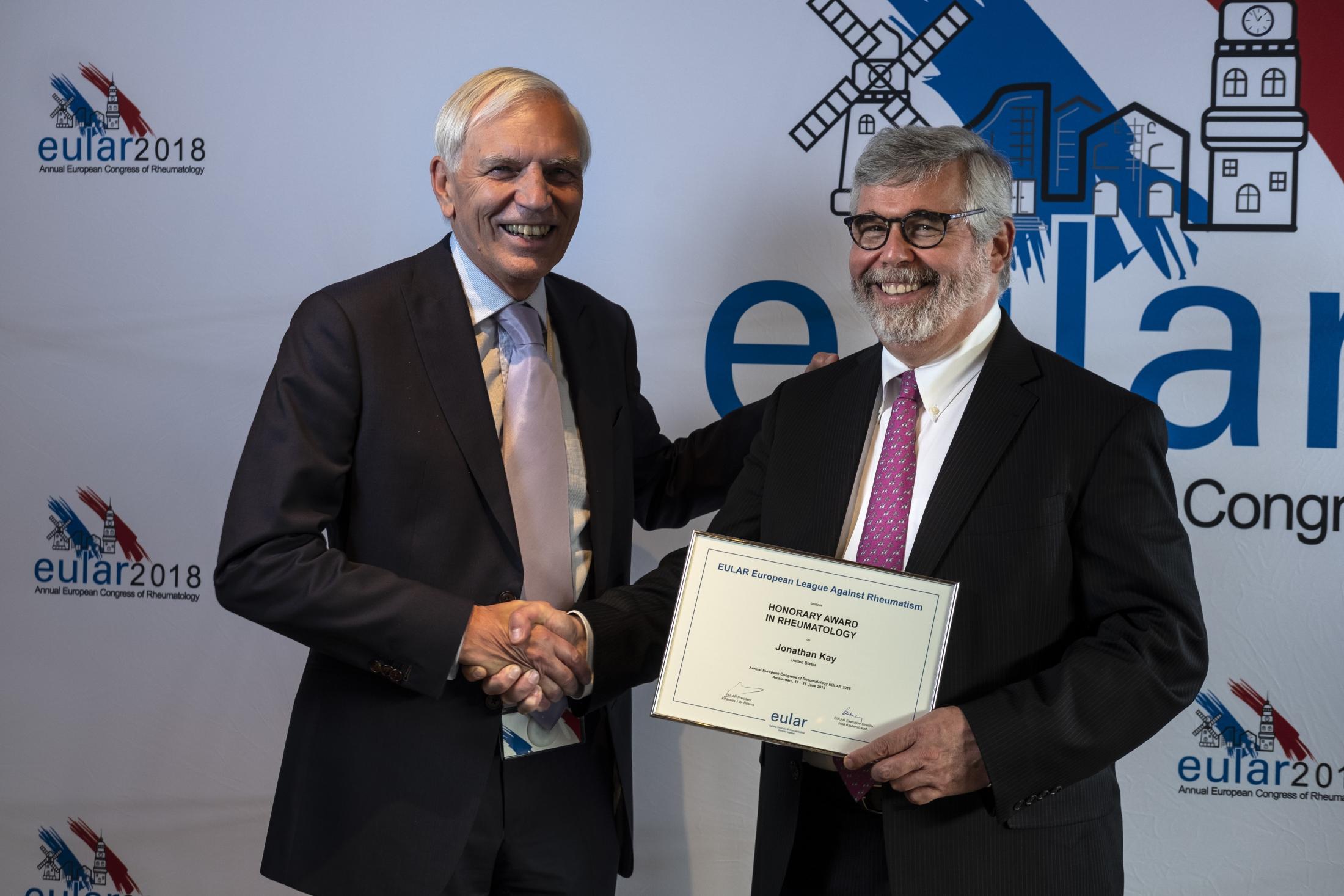 Professor Johannes Bijlsma, president of EULAR, presents Jonathan Kay, MD, with his EULAR Honorary Member certificate at the EULAR Congress 2018.
UMass Memorial Medical Center
Patients and families trust UMass Memorial Medical Center as the region's leading academic medical center committed to improving the health of our communities in Central Massachusetts. With our partner, the University of Massachusetts Medical School, we are committed to excellence in primary and specialty care, community service, teaching, and research. The Medical Center offers advanced technology and support services for patients and families, providing the region with specialists renowned for their expertise in caring for adults and children. Visit www.umassmemorial.org.
# # # # #
-