UMass Memorial Health Care Reaches HIMSS Analytics Stage 6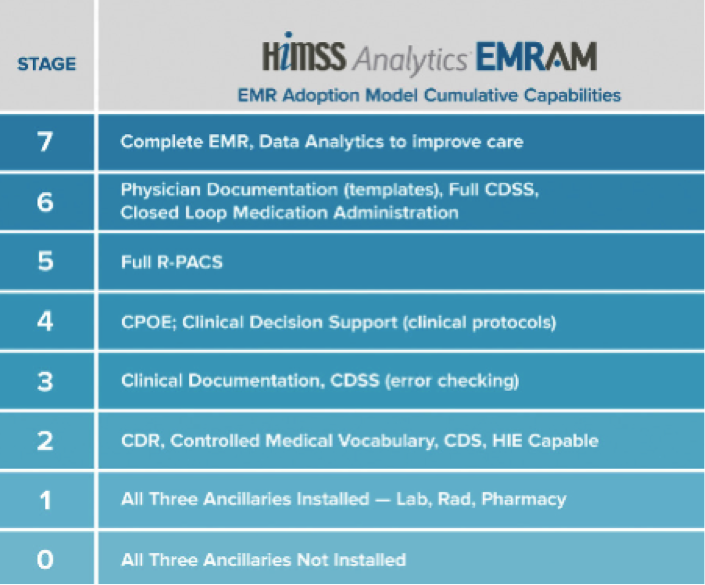 WORCESTER, Mass. – HIMSS Analytics announced UMass Memorial Health Care (UMass Memorial) has achieved Stage 6 recognition. UMass Memorial is the largest healthcare system in Central Massachusetts and has the region's only Level 1 Trauma Center.
The HIMSS Analytics Electronic Medical Record Adoption Model (EMRAM) incorporates methodology and algorithms to automatically score hospitals and ambulatory sites around the world relative to their Electronic Medical Records (EMR) capabilities. This eight-stage (0-7) model measures the adoption and utilization of electronic medical record (EMR) functions. As of November 2017, UMass Memorial Health Care is among the 1,806 hospitals (33%) and 9,316 ambulatory/outpatient sites (22%) tracked by HIMSS analytics that have reached Stage 6.
Click HERE for definitions of each stage.
Stage 6 hospitals also have achieved a significant advancement in their IT capabilities that positions them to successfully address many of the current industry transformations, such as meaningful use criteria in the American Recovery and Reinvestment Act, claims attachments for the Health Insurance Portability and Accountability Act, pay for performance, and government quality reporting programs.
"I am so proud of what our entire organization has accomplished over the past two years as we complete the transformation of our information system, merging hundreds of disparate software platforms into one seamless patient record," said Eric Dickson, MD, president and CEO of UMass Memorial Health Care. "This has been a massive project and our CIO Tim Tarnowski and his team have been great stewards throughout the journey – working tirelessly to make sure the migration was successfully completed. Hats off to Tim, his team and our 13,000-plus caregivers for their commitment to this enormous upgrade and significantly improving the patient experience."
UMass Memorial Health Care is actively pursuing HIMSS Analytics highest achievement – Stage 7.
"HIMSS Analytics congratulates UMass Memorial Health Care for making significant progress towards achieving advanced health IT adoption," said John H. Daniels, CNM, FACHE, FHIMSS, CPHIMS, Global Vice President, HIMSS Analytics. "Stage 6 represents a level of sophistication that can lead to innovative healthcare transformation."
UMass Memorial Health Care
UMass Memorial Health Care is the largest not-for-profit health care system in Central Massachusetts with more than 13,000 employees and 1,700 physicians, many of whom are members of UMass Memorial Medical Group. Our member hospitals and entities include UMass Memorial HealthAlliance-Clinton Hospital, UMass Memorial – Marlborough Hospital, UMass Memorial Medical Center and UMass Memorial – CommunityHealthlink, our behavioral health agency. With our teaching and research partner, the University of Massachusetts Medical School, our extensive primary care network and our cancer, diabetes, heart and vascular, orthopedic and surgery programs, UMass Memorial delivers safe, high-quality and compassionate care. Visit www.umassmemorialhealthcare.org.
About HIMSS Analytics
HIMSS Analytics is a global healthcare advisor, providing guidance and market intelligence solutions that move the industry forward with insight to enable better health through the use of IT.  As a trusted healthcare research and advisory firm, the industry depends on HIMSS Analytics' resources, benchmarks, predictive models and assessment tools to improve decision making regarding their IT strategic roadmap and market strategy. HIMSS Analytics is uniquely positioned and differentiated through its industry focused offerings which include its Healthcare IT market intelligence tool, Healthcare IT insights and Healthcare IT benchmarks and services. The LOGIC market intelligence tool has the largest technology data set with unmatched breadth and depth needed for guiding healthcare IT strategies. HIMSS Analytics research and advisory consultants uncover unique insights on how to optimally use IT to tackle today's healthcare challenges faced by both healthcare delivery organizations and IT companies. Its EMR Adoption Model (EMRAM) provides a strategic roadmap and guidance along an 8-stage model with comparisons to healthcare organizations in the same country and around the world.
HIMSS Analytics, a wholly owned subsidiary of HIMSS, is the healthcare research and advisory firm for healthcare delivery organizations, IT companies, governmental entities, and financial, pharmaceutical, consulting and emerging technology solution partners worldwide. Visit himssanalytics.org for more information.