UMass Memorial Medical Center and UMass Medical School Annual Winter Ball Raises Record Amount
Worcester – The Winter Ball, the premier fundraising gala supporting the mission of the academic health sciences center formed by UMass Memorial Medical Center and UMass Medical School crossed the $1,000,000 threshold for the second straight year. The event, which counted Governor Charlie Baker and Lt. Governor Karyn Polito amongst its 430 attendees, raised more than $1,400,000: a new gala record.
"The Winter Ball is a great opportunity to celebrate the strong relationship between the UMass medical community and their local partners throughout the region," said Governor Charlie Baker. "Lt. Governor Polito and I appreciate the important philanthropic work this community is doing on behalf of Central Massachusetts."
Since 2009, members of the Central Massachusetts community—business and civic leaders, philanthropists and humanitarians—have gathered in early December at the Winter Ball to celebrate and support the lifesaving work of these two institutions. Including this year's record amount, the total monies raised by the event is more than $7.4 million. Event proceeds are generated from corporate sponsorships—which hit a record high, totaling more than $638,000—silent and live auctions, a fund-a-need auction segment and individual ticket sales.
In a joint statement the leaders of both organizations – Eric W. Dickson, MD, president and CEO of UMass Memorial Health Care, and Michael F. Collins, MD, chancellor of UMass Medical School – praised the community's commitment and support of the gala.
"We continue to be humbled by the incredible kindness and generosity of the people in Central Massachusetts who recognize the important role of our academic medical center in the community. "We want to thank our Winter Ball sponsors and patrons for their support in making this night possible. We also want to commend our co-chairs and staff for having the vision and imagination to create such a fun, meaningful and memorable event. Funds raised through the Winter Ball have a direct impact on our mission."
Each year, a program, center or other important initiative at UMass Medical School and/or UMass Memorial is selected as a Fund-a-Need beneficiary. The Neonatal Intensive Care Unit (NICU) was the beneficiary this year. Pledges of more than $250,000 were made during the Live Auction and that amount was matched by anonymous donors, raising the total to more than $500,000, making it the highest amount raised for a Fund-a-Need recipient in the history of the event. 
The UMass Memorial NICU is internationally recognized for quality care and is the region's only Level III NICU for high-risk obstetrical and neonatal care. The NICU staff cares for more than 600 low-birth weight and high-risk infants annually.
"I am overwhelmed by this incredible showing of support for the NICU," said Larry Rhein, MD, UMass Memorial chief of neonatology and director of the NICU. "On behalf of our nurses, physicians and entire staff who work around the clock providing great care for the most vulnerable patients, I want to thank the patrons of the 2017
Winter Ball for this generous donation. These funds will help us accomplish even better outcomes for families."
Planning for the milestone 10th Annual Winter Ball in 2018 is already underway.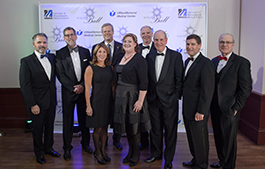 First row from right to left:
UMass Medical School Dean Terence R. Flotte, MD;  UMass Memorial Medical Center President Patrick Muldoon; UMass Medical School Chancellor Michael F. Collins, MD;  Kate McEvoy-Zdonczyk, 2017 Winter Ball co-chair and vice president for Central and Western Massachusetts for Harvard Pilgrim Health Care; Lt. Gov. Karyn Polito
Second row right to left:
UMass Memorial Health Care CEO and President, Eric Dickson, MD; Gov. Charlie Baker; Eric Schultz, 2017 Winter Ball co-chair and president and CEO of Harvard Pilgrim Health Care; and 2017 Winter Ball Co-chair and former Worcester City Manager Michael V. O'Brien, executive vice president of WinnCompanies.