Patrick Muldoon Named UMass Memorial Medical Center President
Experienced Health Care Executive to Lead Central Massachusetts' Largest Academic Medical Center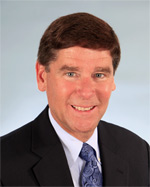 WORCESTER, MA – July 12, 2013 – Eric Dickson, MD, MHCM, FACEP, president and chief executive officer of UMass Memorial Health Care, today announced that Patrick Muldoon has been named president of UMass Memorial Medical Center in Worcester. The appointment is effective August 26.
Mr. Muldoon currently serves as president and chief executive officer of Central New England HealthAlliance Hospital, also a member of the UMass Memorial Health Care system. With campuses in Leominster and Fitchburg, HealthAlliance and its affiliates have net revenues of over $190 million and approximately 1,500 employees. UMass Memorial Medical Center has net revenues of nearly $1.4 billion and more than 10,000 employees.
Mr. Muldoon has extensive experience in various administrative roles, including service as president and chief executive officer of South County Hospital and Healthcare System in Rhode Island and Northern Berkshire Health System in Massachusetts. He began his career in association management at the American Osteopathic Hospital Association before embarking upon his hospital administration work at Rhode Island's Cranston General Hospital. At age 28, Muldoon was named to his initial CEO position at Riverside Hospital in Michigan.
"I am excited to have Patrick join our team as the new president of UMass Memorial Medical Center," said UMass Memorial Health Care president and CEO Eric Dickson, MD, MHCM, FACEP. "Patrick is an ideal leader for UMass Memorial Medical Center. Under his stewardship over the past nine years, the hospital has built a tradition of delivering quality compassionate care and is recognized annually as one of the top ten hospitals in Massachusetts. Patrick's extensive leadership reach within our health care system and now as the chairman of Massachusetts Hospital Association, will serve the Medical Center, its patients, physicians and staff, exceptionally well, as we journey to become the best place to give care and the best place to get care."
"One of the Medical School's most important relationships is with UMass Memorial Medical Center, where the work of our clinical faculty is key to the success of our shared academic health sciences center. We benefit from and depend on strong and collegial leadership at the medical center to support a research, teaching and service environment focused on improving the health of the region, and we look forward to collaborating with Patrick Muldoon as he takes on this critical role," said Michael F. Collins, MD, chancellor of the University of Massachusetts Medical School.
"The connections between UMass Medical School and UMass Memorial Medical Center are numerous and complex. We welcome Patrick Muldoon to the leadership team that will collaborate closely with the Medical School as we work together to chart the future course of health care in the city, the region and the world," said Terence R. Flotte, MD, executive deputy chancellor, provost and dean of the School of Medicine.
Throughout his career, Muldoon has also placed a high priority on service to the community. He is past chair of the United Way Campaign and past chair of the North Central Massachusetts Chamber of Commerce. He serves on the boards of the Worker's Credit Union, Spanish American Center, the Shine Initiative of Fidelity Bank and the Regional Economic Development Institute at Fitchburg State College. In recognition of community service, Mr. Muldoon received the Multi Cultural Center's Distinguished Service Award in 2009, the Community Health Champion Award from Community Health Connections in 2010, and most recently, the 2013 Citizen of the Year Award from Mount Wachusett Community College.
Mr. Muldoon earned his undergraduate degree in Health Services Administration from Providence College and a Master's Degree in Business Administration from Loyola University in Chicago. He is a Fellow of the American College of Health Care Executives.
# # #
About UMass Memorial Medical Center
UMass Memorial Medical Center is the advanced tertiary care referral center for Central New England. The Medical Center offers a full complement of sophisticated technology and support services necessary to provide the region with specialists renowned for their work in areas such as cardiology, cancer, diabetes and orthopedics. To learn more about UMass Memorial, please visit www.umassmemorial.org, Facebook, Twitter and YouTube.
For all media inquiries contact our media relations department; email media@umassmemorial.org or call 508-793-5726.