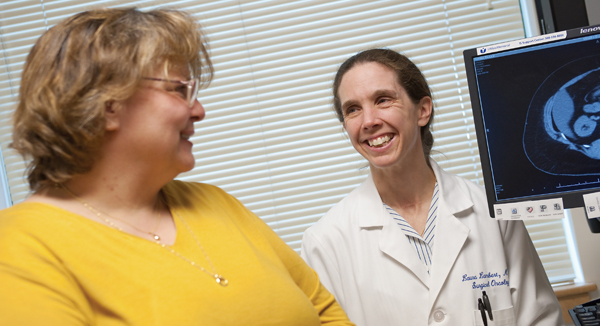 If you need cancer surgery, UMass Memorial Medical Center's highly trained and highly experienced cancer surgeons can help. Cancer surgery is often used along with chemotherapy and radiation oncology to treat cancer. In many cases, surgery offers the opportunity to cure the cancer. It can be used to:
Diagnose cancer
Stage cancer (determine how far the cancer has spread)
Remove tumors
Prevent cancer by removing suspicious tumors
Treat symptoms/problems caused by advanced cancer
Our cancer surgeons include surgical oncologists, thoracic surgeons, neurosurgeons, and orthopedic, urologic and gynecologic surgeons. Each has special expertise and training in many different kinds of tumors, including some types of rare cancers that may be difficult to treat.
Cancers We Treat
Robotic-assisted surgeries offer you less pain and a faster recovery. UMass Memorial is a leader in minimally invasive laparoscopic and robotic surgery for cancer treatment.
Ours is one of only three hospitals in New England to use the daVinci S robotic surgical system for four different types of cancer: gynecologic cancer, colon and rectal cancer, prostate cancer and lung cancer. 
Innovative Chemotherapy Treatments
Our skilled surgical oncologists are nationally recognized for using an innovative treatment to treat peritoneal carcinomatosis. The process is called hyperthermic intraperitoneal chemotherapy (HIPEC) and is done at the time of surgery. Chemotherapy solution is heated and inserted into the abdomen bathing the organs with the goal of killing any microscopic tumor cells that could not be seen at the time of surgery. UMass Memorial is one of only three hospitals in New England offering this procedure resulting in a high-volume program at our Medical Center.