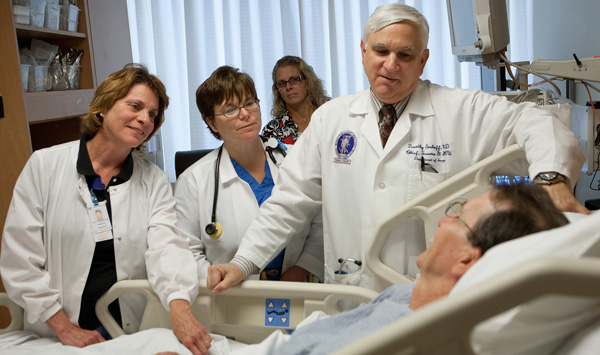 When you or someone you love has a life-threatening illness or injury, you can rely on UMass Memorial Medical Center to provide a superior level of critical care.
Led by intensivists – doctors with advanced training in treating the most seriously ill patients – our expert critical care team delivers constant, attentive care in our state-of-the-art intensive care units (ICUs).
Plus, UMass Memorial patients are watched even more closely than ICU patients at most other hospitals in the state. Using an innovative eICU system, we provide remote computer, audio and video monitoring of every ICU patient – adding an important layer of safety that also translates into better outcomes. Learn more about the eICU.
Critical Care at UMass Memorial Medical Center
There are two ways critical care is different from the care provided on regular hospital units:
A higher level of specialized nursing care: Our highly trained ICU nurses care for just one or two patients at a time on each shift
Advanced technology: This includes bedside monitors that check heartbeat, blood pressure and breathing around the clock, and ventilators to help people breathe
The UMass Memorial Critical Care Team
Working closely together, our critical care team includes:
Intensivists (critical care doctors)
Critical care nurses
Respiratory therapists
Pharmacists
Physician assistants
Social workers
Physical therapists
Dietitians
Clergy/pastoral care personnel
The ICUs at UMass Memorial
Because some critically ill patients require even more specialized care, UMass Memorial has several different ICUs including:
Cardiac ICU (CICU) for patients with heart and blood vessel problems
Medical ICU for patients with conditions relating to cancer and lung, kidney, liver and gastrointestinal problems, and blood infections
Newborn ICU (NICU), also referred to as the neonatal ICU, for critically ill newborns
Pediatric ICU (PICU), for infants, children and adolescents
Surgical ICU for patients recovering from major surgery
Why Are Patients Admitted to the ICU at UMass Memorial?
Patients are admitted to the ICU for many reasons:
Close monitoring after a major surgical procedure, especially if someone is at risk of post-op complications
Lung problems (severe pneumonia, asthma or a blood clot in the lung) that require ventilator support for breathing
A heart attack or unstable heart rhythm
A life-threatening imbalance of the salts, chemicals or minerals in the bloodstream
A serious infection
Severe trauma such as from an auto accident, gunshot wound or burns
Brain injuries including stroke, severe head trauma or bleeding in the brain
What is an Intensivist?
Learn more about these specialists in critical care medicine, why they're uniquely qualified to care for people with life-threatening illnesses or injuries – and the difference they make in patient survival.