Healthgrades 2012-2013 Bariatric Surgery Excellence Award winner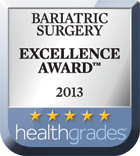 Now celebrating our tenth year, the Bariatric Surgery Program at UMass Memorial Medical Center has been consistently recognized for providing high-quality care to patients whose weight has become a problem. Our four fellowship trained surgeons have a combined 30 years of experience in providing more safe, effective weight-loss surgery than any other program in the state—we've helped more than 4,000 people reach their weight-loss goals.   
The Bariatric Surgery Program has been recognized by Healthgrades, a leading consumer health information source, as a recipient of the 2013 Bariatric Surgery Excellence Award, a testament to our quality outcomes and our dedication to patients.
Learn more about our Healthgrades ranking.
Past awards from Healthgrades include:
Ranked #1 in Massachusetts for overall bariatric surgery, 2012
Five-star Recipient for overall bariatric surgery, 2011, 2012, 2013
Recipient of the Bariatric Surgery Excellence Award 2012, 2013
Among the top 5% in the nation for bariatric surgery in 2012
Among the top 5 in the state for overall bariatric surgery 2011, 2012
Learn more about our bariatric services.
Leader in minimally invasive colorectal surgery
 The Division of Colon and Rectal Surgery has five fellowship-trained surgeons providing the most advanced diagnostic and treatment services in the region. No other program in Central Massachusetts has as many colorectal surgeons, and none can offer the care of a female colorectal surgeon for patients who prefer one.
We specialize in minimally invasive colorectal surgery, which gives patients more options for their surgery and often results in less pain and a faster recovery.  Some of the minimally invasive procedures we offer include:
Single-incision laparoscopy (single-port surgery)
Transanal endoscopic microsurgery (TEM)
Sphincter sparing surgery
J pouch surgery
Hemorrhoid management
Sacral Nerve Stimulation
Watch a video about Single-Incision Laparoscopy here. (Note, this video contains footage of actual surgery.)

Learn more about our colorectal services.
One of the largest transplant programs in New England
UMass Memorial Medical Center has recently emerged as one of the fastest-growing organ transplantation hospitals in New England and now offers one of the largest liver transplantation programs in the state. In fact, in 2012 we transplanted more livers than any other program in Massachusetts.
Since 2011 we have:
Added outstanding medical and surgical talent and doubled the number of transplant coordinators, for an exceptional depth and breadth of dedicated transplant expertise
Launched a comprehensive living donor liver transplant program, expanding the number of available organs and dramatically decreasing wait time for eligible patients
Performed more liver transplants than any other center in New England*
Performed the second-highest number of deceased-donor kidney transplants in the state*
Streamlined the process to place patients on the UNOS (United Network of Organ Sharing) waiting list as quickly as possible
Attained highly competitive "mean times to transplant" (how long patients remain on the waiting list before transplant)
Documented outcomes (patient and graft survival) that meet or exceed national benchmarks
*Organ Procurement and Transplantation Network (OPTN) data.
 While we are proud of our program's growth and success, its real significance lies in the hope and promise it offers to patients and their families. As we grow, we are able to help save and enhance even more lives.
 Learn more about our organ transplant services.