Steven Roach Named Marlborough Hospital President and CEO
Experienced Health Care Leader Brings Expertise and Community Knowledge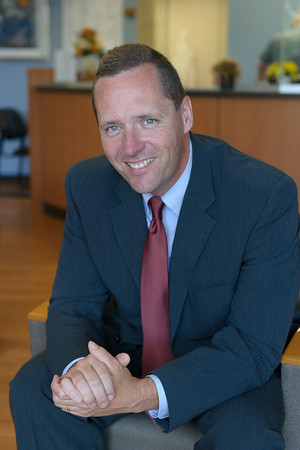 WORCESTER, MA – October 3, 2013 – UMass Memorial Health Care, the largest health care system in Central New England, today announced that Steven Roach, MBA, has been named President and CEO of Marlborough Hospital. The appointment is effective November 1.
Mr. Roach, 40, currently serves as chief executive officer of Nashoba Valley Medical Center in Ayer, MA, a member Steward Health Care System. He also served as chief financial officer and chief operating officer there, prior to his appointment as CEO in 2006.
Mr. Roach has extensive experience in various administrative roles, including senior financial analyst at Boston's Brigham and Women's Hospital, and director of financial and strategic planning at Emerson Hospital in Concord.
"I am excited to have Steve join our team as the new president and CEO of Marlborough Hospital," said Douglas Brown, senior vice president for member hospitals and chief legal officer for UMass Memorial Health Care. "His leadership has earned him great respect and admiration from other health care and business leaders throughout the state. Steve has been particularly successful at establishing collaborative relationships with physicians and employees. He will be a great fit at Marlborough Hospital."
Richard Bennett, chair of Marlborough Hospital's Board of Trustees, said: "Throughout his experience in health care, Steve has shown a drive for operational excellence and a knack for strategic decision making. He is also committed to drawing upon the skills and expertise of the employees at each of the organizations he has led."
"This is a tremendous opportunity for me to join such an impressive community-based hospital under a strong health care system," said Mr. Roach. "Marlborough Hospital, with its highly respected medical staff, vibrant workforce, and outstanding facilities has a great reputation for providing excellent care with high quality outcomes. This is an especially exciting time there with the opening of the new Cancer Center, which I know has been so important to the community. I look forward to leading Marlborough Hospital as it strives to create a great patient experience through its commitment to quality outcomes and community focus."
Mr. Roach graduated from the University of New Hampshire (BS, Health Management and Policy), and Bentley College (MBA). He has served on numerous community boards and foundations, is a fellow in the American College of Healthcare Executives and a member of the Healthcare Financial Management Association.
Mr. Roach succeeds Karen Moore, who resigned in March. Candra Szymanski, who has served as interim president and CEO during the search, will return to her role as chief operating officer.
About UMass Memorial Health Care
UMass Memorial Health Care is Central Massachusetts' largest not-for-profit health care delivery system, covering the complete health care continuum with UMass Memorial Medical Center, its academic medical center, member and affiliated community hospitals, freestanding primary care practices, ambulatory outpatient clinics, a rehabilitation group and mental health services. UMass Memorial is the clinical partner of the University of Massachusetts Medical School. To learn more about UMass Memorial, please visit www.umassmemorial.org, Facebook, Twitter and YouTube.
For all media inquiries contact our media relations department; email media@umassmemorial.org or call 508-793-5726.