UMass Memorial Children's Medical Center Hosts 20th Annual Teddy Bear Clinic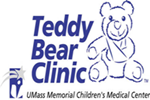 WHAT: Free and fun health fair for children and their families 20th Annual Children's Medical Center Teddy Bear Clinic
WHO: UMass Memorial Children's Medical Center — part of UMass MemorialMedical Center. Staff from the Children's Medical Center volunteer their timeand expertise to create an interactive health fair for the children of Central Massachusetts
WHEN: Saturday, April 27 from 10 am - 3 pm
WHERE: Solomon Pond Mall, Marlborough, MA
WHY: Help children learn about health, safety, going to the doctor, having surgery, injury prevention, in a fun, interactive way…all for free.
OTHER: Exhibits for children and their families to enjoy,giveaways and more! Children are encouraged to bring a favorite teddy bear or toy they wish to have examined.
SPONSORS: WXLO, SOLOMON POND MALL
FOR MORE INFORMATION VISIT: https://www.umassmemorialhealthcare.org/teddy-bear-clinic
BOOTHS and ATTRACTIONS TO MENTION:
Play a game of teddy bear operation with Pediatric Surgery
Get a cast put onto your stuffed toy
Teddy Bear Clinic – Bring a bear or stuffed doll to be examined.
Doctor Dress-up – No need for medical school! Kids - come and dress up like a doctor. Try on scrubs, surgical hats and more.
For all media inquiries contact our media relations department; email media@umassmemorial.org or call 508-793-5726.