UMass Memorial Medical Center Now Offering Boston Children's Pediatric Ophthalmology Services
WORCESTER, Mass. – UMass Memorial Medical Center's (UMass Memorial) Department of Ophthalmology announces a collaboration with Boston Children's Hospital's Department of Ophthalmology to offer pediatric ophthalmology services for children in Central Massachusetts. This service, which opened to new patients last month, is the first of its kind to be offered at the UMass Memorial Eye Center and addresses a critical need in the community.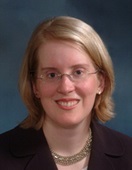 Suzanne Johnston, MD, a board-certified pediatric ophthalmologist, will be the first Boston Children's ophthalmologist to see patients and perform surgeries at Hahnemann Eye Center. Dr. Johnston will provide evaluation, diagnosis and treatment for a full range of eye conditions that affect children, including eye misalignment problems.
"Convenient, closer to home access to expert eye care will make a huge difference in the lives of families and their children in this area," said Shlomit Schaal, MD, chair of the Department of Ophthalmology at UMass Memorial. "We are fortunate to have a physician with the credentials of Dr. Johnston on board pioneering this service at the Medical Center. I am grateful to Dr. David Hunter and his team at Boston Children's Hospital for supporting this collaboration."
Dr. Hunter, chief of Ophthalmology at Boston Children's Hospital, worked with Dr. Schaal to initiate the collaborative effort. "We are delighted to be able to build this bridge across institutions to provide the expertise of Boston Children's pediatric ophthalmologists to the Central Massachusetts community," said Dr. Hunter.
"I am very excited for this opportunity to engage with children in Central Massachusetts and help them address any medical condition that could negatively impact their vision," Dr. Johnston shared. "It is important for families to identify these problems early to head off any potential long-term damage in the future. After visiting with the leadership at the UMass Memorial Eye Center I was very impressed with the organizational commitment to the cause of pediatric eye care."
 If you would like to schedule an appointment at the UMass Pediatric Ophthalmology service please call 855-UMASS-MD (855-862-7763) or consult with your child's pediatrician.
UMass Memorial Medical Center
Patients and families trust UMass Memorial Medical Center as the region's leading academic medical center, committed to improving the health of our communities in Central Massachusetts. With our partner, the University of Massachusetts Medical School, we are committed to excellence in primary and specialty care, community service, teaching and research. The Medical Center offers advanced technology and support services for patients and families, providing the region with specialists renowned for their expertise in caring for adults and children. Connect with us via @umassmemorial and @umassmemorialmedicalcenter on Instagram, @umassmemorial on Twitter, and via UMass Memorial Health Care and UMass Memorial Medical Center on Facebook. Read our Simply Well Blog and call 855 UMASS MD for appointments.
Boston Children's Hospital
Boston Children's Hospital, the primary pediatric teaching affiliate of Harvard Medical School, is home to the world's largest research enterprise based at a pediatric medical center. Its discoveries have benefited both children and adults since 1869. Today, more than 3,000 scientists, including 8 members of the National Academy of Sciences, 17 members of the National Academy of Medicine and 12 Howard Hughes Medical Investigators comprise Boston Children's research community. Founded as a 20-bed hospital for children, Boston Children's is now a 415-bed comprehensive center for pediatric and adolescent health care. For more, visit our Vector and Thriving blogs and follow us on social media @BostonChildrens, @BCH_Innovation, Facebook and YouTube.