Community Benefits Message from Our System CEO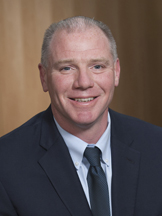 Since I assumed the role of president and CEO of UMass Memorial Health Care, our hospitals have completed a community health needs assessment and are working with their respective communities to address identified needs of the medically underserved.
Improving the health of the community requires addressing the complex social factors that impact health and people's ability to make healthy choices. In today's era of health care reform, we must incorporate population and public health strategies into our approach along with transforming how we deliver care. Developing innovative models that link our vast clinical and community resources are key to overcoming barriers to accessing care and addressing health disparities among vulnerable populations. As such, our hospitals and health care entities continue to work closely with their local public health departments and a broad range of community partners to achieve the greatest collective impact in improving health outcomes.
Most recently, UMass Memorial Medical Center and the Worcester Division of Public Health convened stakeholders to complete a grant application to the Massachusetts Prevention and Wellness Trust Fund (PWTF). As a result, Worcester was selected as one of nine communities in the state to receive PWTF funding for innovative interventions that use clinical/community links to reduce preventable conditions and health care costs. We are thrilled that as a result of the PWTF award our Pediatric Asthma Home Visiting Pilot project will be expanded to schools across the City of Worcester, where the rate of asthma-related emergency rooms visits for children ages 0 to 19 is double that of the state. Linking our work with neighborhoods is critically important and we continue to invest in programs such as the Care Mobile, community gardens and other efforts.
As we move forward, community health improvement and prevention efforts such as these are crucial to our mission of addressing health care disparities in the most patient- and family-centered, cost-effective manner.
I look forward to sharing our progress with you in the coming year.
Eric Dickson, MD
President and CEO
UMass Memorial Health Care