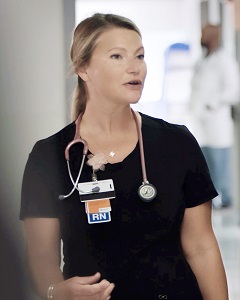 Everyone, Everyday, Relentlessly.
Heather Mercadante, RN, is quick to share her blessings: her family, friends and her job. This busy mom of three kids (ages 1, 2 and 5) and a puppy, rounds out her personal life with her job at Marlborough Hospital's Granger 1 and 2. "I love working here. We're like a big family. We work as a team," she said.
Heather, who was featured in the UMass Memorial Health Care Anthem video, is honored to represent our organization during this challenging year. "Being a part of the video made me so proud. I'm touched by our powerful story."
Part of our story is our work during the COVID-19 crisis. According to Heather, "As we treat patients with this horrible disease, it has helped people at work get closer. We're in this together."
In defining what the relentless pursuit of caring means to her, she said: "We're not going to give up, even if sometimes we may want to. We keep going, not matter how stressful it is or how tired we are. We're going to put on our PPE and keep going."
Heather found her career calling after witnessing firsthand the incredible impact nurses made on a family member fighting cancer. Today, as a medical surgery telemetry nurse, empathy is key when caring for her patients, which is why she takes time to talk with them, help alleviate their fears and listen to their stories. "I think how I'd feel if it were myself or a family member being the patient," she said.
According to Audrey Greenlaw, RN, Day Resources, Heather is an asset to the Granger 1 and 2 team. She describes her as "exceptional" nurse, "team player" and a "pleasure" to work with. "She has a beautiful smile that puts people at ease," said Audrey. "She has an excellent bedside manner with our patients and is very caring, very compassionate."
Likewise, Heather can't say enough about her team, which won the distinguished Innovator of the Year award in 2018. "Marlborough Hospital has great nurses. We really care and get one-on-one time with our doctors, who are also accessible to us via  their mobile phones."