Joanna Wright, Director of the CDM Hospital Billing Revenue Integrity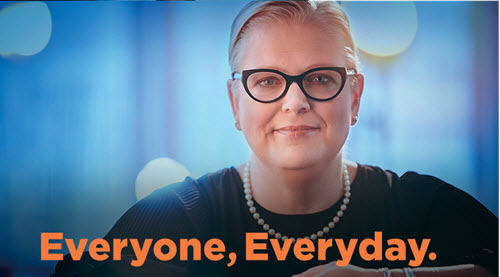 It's hard to find anyone who better exemplifies the volunteering pillar of our Anchor Mission than Joanna Wright. A Worcester native who has worked in hospital billing and compliance for many years, Joanna has always made time to give back to her community — especially for causes that support children and families. 
Prior to joining UMass Memorial Health in 2020, she volunteered in the Ronald McDonald House Charities Family Room in the UMass Memorial Children's Medical Center and sat on a Patient and Family Advisory Council in support of parents for the Pediatric Intensive Care Unit (PICU). "My daughter was very sick and needed critical care when she was a baby and as a toddler," Joanna recalled. "The care she received here was just phenomenal. I wanted to give back." 
Last winter, Joanna attended a Virtual Town Hall hosted by UMass Memorial Health CEO and President Eric Dickson, MD. "Dr. Dickson said we need to care for our patients both inside and outside our hospital walls," Joanna said. "That resonated with me. It supported my philosophy of giving back."
Since then, Joanna regularly volunteers for the UMass Memorial Health Anchor Mission Food Is Medicine program for families with food insecurities, as well as for "fill up the fridges" locations in Worcester neighborhoods. Joanna collects food donations and delivers them to community refrigerators, where people can give and take what they want. 
"I like filling up the fridge up at 916 Main Street, Worcester, because that community really needs it the most, and it's right near a school," Joanna explained. "When the kids walk by on their way to school, they can grab an apple sauce, a yogurt stick, a juice box or a banana. That might be all they have for hours. Nothing warms my heart more than making sure a child is not hungry in school, with their stomach grumbling." 
Joanna has also volunteered at the Mercantile Center UMass Memorial Stop the Spread COVID-19 testing site. She encourages her colleagues to look into the many volunteering opportunities within the organization.
"People may be afraid they have to take time off of work or they don't have a lot of money to donate," she said. "It's not the volume or dollars. Even the littlest contribution goes farther than they think. It can be one hour of their time at the COVID center or one box of yogurt sticks."
When not at work or volunteering, Joanna enjoys spending time with her family, including her twins — a son and daughter getting ready to go off to college — and their Boston Terrier. Volunteering will remain a part of her role as a caregiver at UMass Memorial Health, here and in the community. "I love working here and I truly believe in the organization," she said. "When I put something in one of the free fridges, I say, 'This is from UMass Memorial and Dr. Dickson.'" 
To read more stories like Joanna's, visit everyoneeveryday.org. Is there a caregiver who inspires you in their relentless pursuit of healing of our patients, our community and each other? Give them an Everyone, Everyday Shoutout in UMatter Central!