Oscar Sierra, Supervisor, Interpreter Services Department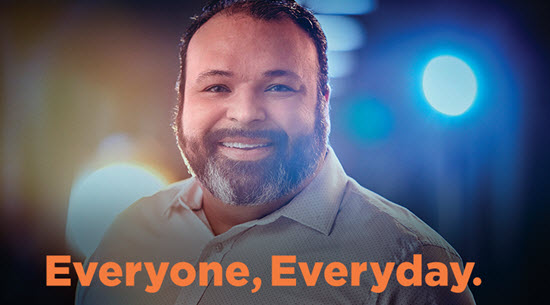 Oscar Sierra was born in Puerto Rico and moved to Southbridge in the 1980s with his family. As a young boy, he'd accompany his parents and grandparents to their medical appointments, serving as an informal interpreter. "One of the doctors told me, 'You're a good interpreter. You should look into this,'" Oscar recalled. "I was only 14." 
Oscar studied tourism and business in college, but eventually, life led him back to his true calling. "I saw an ad for medical interpreters at Harrington Hospital," he says. "I put in my resume, went in for an interview, and I was hired on the spot. I started the next day." Oscar's charisma, warmth and positive attitude helped him land the position, where he received on-the-job training in medical interpretation. 
Now, 12 years later, Oscar is supervisor of Medical Interpreter Services at UMass Memorial Health – Harrington — and a beloved caregiver to the patients and families he supports. "When a patient is nervous and scared about a procedure or to hear test results, I can calm their nerves and anxiety through effective communication and active listening," Oscar explained. "I really love my job. Every day there's a new challenge. It's amazing."
Oscar works the 7 am to 4 pm shift. Like so many caregivers who go the extra mile, Oscar arrives at his job early at 6:30 am to turn on the computers, fire up the coffee, and review the day's schedule. He sees patients going into same-day surgery, those receiving inpatient care, and he's on call for the Emergency Department. He also provides interpretation through UMass Memorial Medical Group clinics. 
Oscar has seen it all, from to people admitted for serious illness to those injured in car accidents. He is a reassuring presence to patients seeking comfort and clarity. "I interpret everything the doctor is saying," Oscar noted. "The patient feels at ease because they are looked after by medical professionals and someone who speaks their native language. There is a moment when they smile and know that they are in great hands, and that everything will be OK." 
Patients who meet Oscar often develop a bond with their interpreter. Oscar remembers one patient in particular from the Dominican Republic who received treatments at the hospital's cancer center. "I sat with her through chemo, every day, and we chatted about this and that," he recalled. "When she was through, she gave me a Bible that [she inscribed], 'God bless you from all of us in the community.' I've kept it, and it reminds me of her." 
Oscar says he feels supported by his colleagues and looks forward to new relationships now that Harrington is part of the UMass Memorial family. "I see these patients, and they could be my grandmother, or my grandfather. That's how I treat them, like family. It is my responsibility to be their voice." As an advocate for equitable health care, Oscar advances our relentless pursuit of healing for our patients and community. 
To read more stories like Oscar's, visit everyoneeveryday.org.