Celebrating 40 Years of Helping Vulnerable Youth Earns Him a Key to the City of Worcester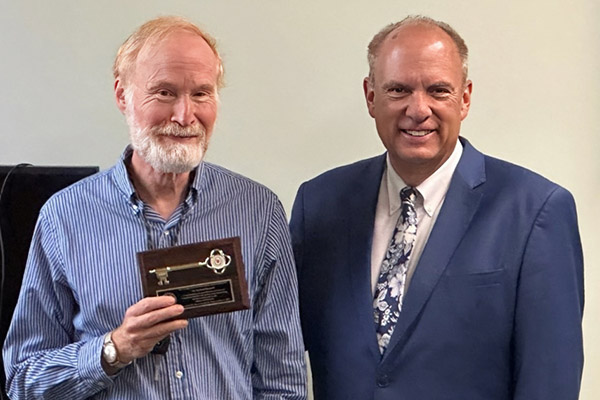 Worcester, Mass – His 40 years of caring for the mental health of Worcester youth has earned Clinical Psychologist Richard Hummel, MD, a key to the City of Worcester. In a surprise ceremony on Wednesday, October 4 at the Community Healthlink (CHL) offices, Mayor Joe Petty presented Dr. Hummel with his own key.
Hummel has spent those same 40 years caring for UMass Memorial Health Community Healthlink clients. His career began at the Worcester Youth Guidance Center (WYG) in 1983 (before WYG merged with CHL).
"Dr. Hummel is a true humanitarian, giving of himself to community-based programming through groups, tutoring, art and music therapy, said Gordon Benson, interim president, CHL. "He has been a stalwart member of the psychology training program at CHL for several decades and his leadership and compassion has affected many lives."
Most recently, Hummel practiced in the Juvenile Court Clinic (JCC) and in the Together for Kids (TFK) program, helping chart pathways to success for some of the most vulnerable and at-risk children in our community who might otherwise be expelled from school.  He does this as a forensic psychologist and supervisor assessing risk in youth exhibiting dangerous behaviors and providing guidance on how to help them become safe in our community. He also provides clinical oversight to clinicians in the TFK program, whose mission is to decrease preschool expulsion to zero incidents through classroom consultations and interventions. 
In private practice, Dr. Hummel provides consultation, assessment and staff training for agencies servicing the Massachusetts Department of Mental Health, Massachusetts Department of Developmental Services, Massachusetts Department of Children and Families, and court-involved individuals. 
Outside of work, Dr. Hummel is involved in activities that uplift the Worcester community refugee groups through music and sports.  On weekends, he plays in pick-up games throughout Worcester that involve players from many different soccer-loving immigrant groups.  He volunteers his musical skills by playing the trumpet and drums at his church on Sundays.  He, and his wife Betsy, are actively involved with the Worcester Alliance for Refugee Ministry (WARM) of Worcester, where he has volunteered his time to lead drum circles with a refugee men's group and with refugee youth in a learning pod at WARM during the pandemic. 
About UMass Memorial Health
UMass Memorial Health is the largest not-for-profit health care system in Central Massachusetts with more than 17,000 employees and 2,100 physicians, many of whom are members of UMass Memorial Medical Group. We are the clinical partner of the University of Massachusetts Medical School. Our comprehensive system includes UMass Memorial Health – HealthAlliance-Clinton Hospital, UMass Memorial Health – Marlborough Hospital, UMass Memorial Medical Center and UMass Memorial Health – Community Healthlink. Visit www.ummhealth.org.