Critical Care Affiliate Practitioner Residency Program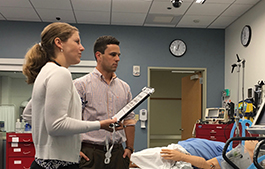 We have developed an exceptional learning and working opportunity with a 12-month clinical post-graduate Affiliate Practitioner (AP) Residency Program in Critical Care at UMass Memorial Medical Center.
We are accepting highly motivated new graduates or experienced physician assistants (PAs) or acute care nurse practitioners (NPs) seeking a career in critical care medicine.
About Our Program
We have specifically geared our program towards providing the physician assistant and acute care nurse practitioner with the academic and clinical experience needed to practice critical care medicine. Our staff at UMass Memorial is a devoted group of individuals with robust experiential backgrounds that give our residents a strong interdisciplinary foundation in critical care by working directly with them clinically and academically.
Our residents are immersed in a high energy, fast paced, and rewarding clinical situations that we have complemented by a strong academic program. We have also combined our efforts with the Interprofessional Center for Experiential Learning and Simulation at the University of Massachusetts Medical School to provide simulated learning. Additionally we use a unique preceptoring program that tailors our training process to the needs of our residents allowing them to grow professionally and gain a superior level of expertise in their clinical skills.
Our goal is to ensure that our graduates are skillfully trained and exceedingly prepared for entering a career in critical care, having a knowledge base to support advanced clinical judgment, an understanding of decision-making in critical care and a humane approach to patient care based on compassion and mutual respect.
Critical Care at UMass Memorial
UMass Memorial Medical Center operates seven adult ICUs with more than 90 beds over three campuses in Worcester, Massachusetts. All unit beds are linked to the eICU®, an innovative telemedicine system where clinical staff monitor care and provide 24-hour support. AP residents rotate through medical, neurological, and surgical adult intensive care units, working with intensivists, physician residents, and experienced critical care physician assistants and acute care nurse practitioners.

Applying to our Program
Our 12-month program is designed to accept several AP residents per year. Applicants must be graduates of an accredited  
PA/NP program, possess board certification from the NCCPA/ANCC and/or AACN in Gerontology Acute Care, and hold licensure to practice medicine in Massachusetts, basic life support (BLS) and advanced cardiac life support (ACLS) certifications are also required.
In addition to a written application, applicants must be available for an interview with program staff at UMass Memorial. Upon acceptance into the program, Massachusetts State Controlled Substance Registration and Federal DEA Registrations will be required.
Applicants are selected on the basis of demonstrated academic and clinical achievement, commitment to practice in a critical care environment, motivation, communication skills and overall maturity. AP residents are considered temporary employees of UMass Memorial Medical Center and earn a competitive salary and benefits, including medical, dental and life insurance, paid time off, and a practice allowance.
For those who successfully complete the program, a certificate of completion is awarded.
For more information or to apply, please email Christina Bailey.