Injuries are the leading cause of death among all Americans, regardless of age or background. The most vulnerable, of course, are children and the elderly.
The overall impact of unintentional and preventable injury is much more serious than we see in our communities and on the news. Millions of Americans are injured each year and are treated in hospital emergency rooms throughout the country.  In Massachusetts alone, between 2007 and 2009*, 41 out of every 100,000 people died of injury-related causes; most of these injuries were predictable and therefore preventable.
For this reason, the UMass Memorial Injury Prevention Center is leading a coordinated effort to reduce injuries in the community we serve, guided by the belief that everyone should have access to the best information and resources to live a healthier, safer life. 
To sponsor one of our programs, please contact us at injuryprevention@umassmemorial.org or 774-443-8627.
The Burden of Injuries
More than 180,000 Americans die from preventable injuries each year—that's one person every three  minutes
More than $406 billion is spent annually on injury-related medical costs and lost productivity
For those aged 5 to34 in the United States, motor vehicle crashes are the leading cause of death, claiming more than 18,000 lives each year
Annually, more than 29.5 million people, or 55 every minute, are treated in emergency rooms as a result of injuries and violence.
(Source: Centers for Disease Control and Prevention)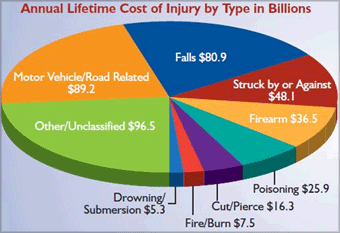 Our Injury Prevention Programs
 Open to print a home safety checklist.