If you have a medical emergency, please call 9-1-1. 
Stroke if a medical emergency. If you think you or someone else is having a stroke, call 9-1-1 immediately and note the time when symptoms first appeared. Do not drive yourself or wait for a ride from a friend or family member.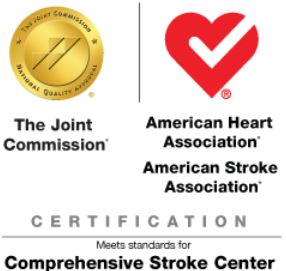 When it is a stroke, you need rapid diagnosis and treatment that is essential to treat and prevent further damage to the brain.Our doctors act quickly to stabilize patients having a stroke and use the most advanced surgical techniques available to improve outcomes and possibly prevent future occurrences of stroke. Both patients and their families receive information and the support essential to making informed decisions about stroke care.
Proud to be the recipient of the Joint Commission's Gold Seal of Approval as an Advanced Comprehensive Stroke Center, the highest level designation a hospital can receive.
Stroke Services Recognized for Quality
If you or a loved one is having a stroke, you want the expert care of a team recognized for its quality care of stroke patients. The Massachusetts Department of Public Health recognized us as a primary stroke center. Our stroke team recently earned the American Heart Association/American Stroke Association (AHA/ASA) Get with the Guidelines Stroke Gold Plus Award for consistent compliance with quality measures for 24 consecutive months. Additionally, they received the AHA/ASA Target: Stroke Honor Roll Elite Plus status for consistently administering clot-busting medication to appropriate patients within the target time frame. Our services include:
A Stroke Could Happen to Anyone
A stroke is a sudden problem that affects the blood vessels of the brain. It is the fifth leading cause of death in the United States.
There is no typical stroke patient. Each person has unique symptoms based on his/her health and risk factors. Treatment is tailored to the individual. Prevention and early detection are key factors in identifying and successfully treating neurological conditions.