At the UMass Memorial Eye Center, you'll find the full range of vision care, from routine preventive care and screening, to today's most innovative medical and surgical treatments for complex eye disorders.
With such a comprehensive team of specialists, we're usually able to offer you an appointment within a day or two for urgent issues or within 14 days for most conditions ensuring that you receive timely, effective treatment to prevent or halt the progression of eye disease and preserve your eyesight.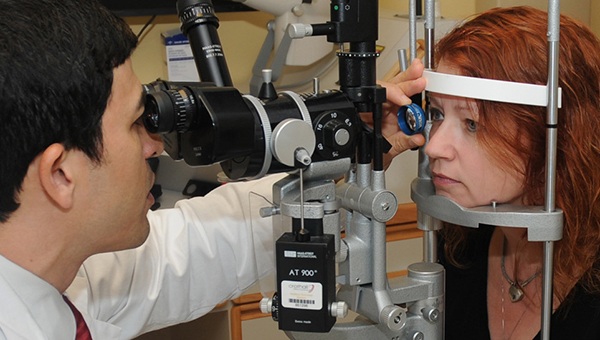 You can count on the UMass Memorial Eye Center for:
The Latest Diagnostic, Medical and Surgical Breakthroughs
Our specialists are on the leading edge of vision care. They not only have undergone advanced subspecialty training, but they remain at the top of their game because they also teach the next generation of physicians. No other facility in this region can offer the breadth and depth of advanced ophthalmologic care that we do.
Pioneering Advanced Discoveries Through Research
To preserve and restore vision is the heart of our mission at the UMass Memorial Eye Center. Through research conducted by our physician-scientists, we are always learning more about eye diseases and ways to treat them, bringing our findings from the lab to the bedside as quickly as possible to better serve our patients.
Dedicated Eye Center and Surgical Suite
For your convenience, all our eye specialists, diagnostic and treatment resources are located under one roof. UMass Memorial has invested in a state-of-the-art surgical suite equipped with the most advanced technology currently available for corrective eye surgery—something no other facility in the region can offer.
Powerful Imaging Capabilities
Eye disease requires a significant arsenal of imaging technology for screening, early detection, accurate diagnosis and tracking disease progression. At the UMass Memorial Eye Center, we have ophthalmology-specific tools for high-quality imaging, making diagnosis and treatment planning fast, efficient, and accurate.
Precision Medicine That Tailors Treatment to the Individual Patient
There is a new, personalized approach to medical treatment called precision medicine. Rather than "one-size-fits-all" therapies, with precision medicine, we are increasingly able to tailor the best course of treatment for certain eye diseases to your individual genetic profile.
Compassionate, Supportive Staff
Your comfort and safety are important to us, and we want you to feel informed, empowered and satisfied with your experience at the Eye Center. Our staff will work closely with you and your family to ensure that you not only receive high-quality care but also exceptional service, every step of the way.