The birth of your baby is a very special event. Our Maternity Center offers the setting, expertise, and support you and your family need to have a healthy, positive birth experience. 
UMass Memorial Medical Center in Worcester, MA, welcomes upward of 4,500 babies into the world each year – more than any other hospital in Central Massachusetts. The fact that so many moms choose to have their babies at our birthing center is evidence of the outstanding maternity care we provide.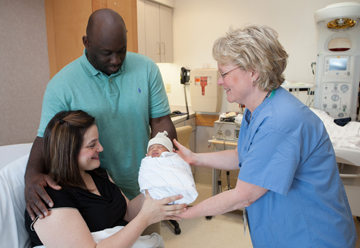 Nationally Recognized Obstetric Care 
From the moment you decide to have a baby, you can count on us for the expert care you deserve. Our Maternity Center has been nationally recognized with top honors as a five-ribbon hospital on Newsweek's list of America's Best Maternity Hospital, as Best Maternity Hospitals 2023 | US News and Blue Distinction Center for Maternity by Blue Cross Blue Shield. Our Maternity and Childbirth Center also received "best of" distinction in Central Massachusetts. With highly skilled obstetricians, family medicine physicians, maternal-fetal medicine specialists, nurses, advanced practice clinicians, including certified nurse midwives, we're here for you at every step of your pregnancy, providing:
Comprehensive prenatal care and childbirth education to ensure a healthy pregnancy
Attentive, personalized care through all stages of labor and delivery – a hallmark of our TeamBirth  program – that helps ensure a safe and positive patient experience 
Comprehensive postpartum and follow-up care to make sure that mom, baby and family are doing fine 
Our Maternity Center Services
Our Maternity Center offers:
Private birthing suites complete with a private bathroom, television and daybed, in a comfortable, homelike setting
24-hour obstetric anesthesia care
Neonatal Intensive Care Unit (NICU), the region's only Level III NICU providing advanced neonatal care for high-risk, premature and low birth weight newborns
Certified lactation (breastfeeding) consultants
Umbilical cord blood donation through New England's first cord blood donation program, where donations could be used to save another baby's life or for  research
 
High-Risk Pregnancy 
As the only hospital in Central Massachusetts with high-risk pregnancy specialists (obstetricians who have advanced training in maternal-fetal medicine or perinatology), the Medical Center can handle all pregnancy complications, such as kidney or heart disease, seizure disorders, high blood pressure, diabetes, and issues affecting the baby. Specialists address problems that occurred in a previous pregnancy and those that develop suddenly during your current pregnancy or your delivery.