Winter Courses Begin Week of January 24, 2022
Everyone experiences stress. It's a part of the human experience.
The negative effects of chronic stress and their impact on the quality of our lives is well documented.  Unchecked, our physical responses to stress can lead to poor health, and yet can often go unnoticed until symptoms or situations bring them to the forefront.
What if there were a scientifically researched way to change our relationship to stress using mind and body awareness, to participate in our own self-care, and to contribute wholeheartedly to our own growth and development as human beings?
The story of the Center for Mindfulness (CFM) begins in the 1970's at UMass Memorial Medical Center, where Dr. Jon Kabat-Zinn, PhD, began the original Stress Reduction clinic that soon developed into Mindfulness-Based Stress Reduction (MBSR), and the Center made its home at the University of Massachusetts Medical School.  Since that time, more than 25,000 people have completed this groundbreaking 8-Week program with CFM and have worked with their own internal resources and abilities to respond more effectively to stress, pain, and illness. Acquiring and building on mindful awareness during the weekly sessions and with home practice, participants utilize mindfulness meditation, simple and gentle body movement, and group discussion of experience to begin to integrate this awareness into the challenges and adventures of everyday life.
In 2014 the program began to be offered online, bringing it from Worcester to the world. Online meeting technology was found to integrate very well with the real-time group experience of MBSR that had been transforming lives for 35 years. In June 2019, the Center for Mindfulness transitioned back to UMass Memorial Health, and began its next chapter with renewed purpose and promise.  We continue the commitment to offer this program, established more than 40 years ago right here in Worcester, MA, to benefit the lives of participants across the world.
Take action. Engage in your own self-care. Live your best life, right now, today.
Practice sharing the fullness of your being, your best self, your enthusiasm, your vitality, your spirit, your trust, your openness, above all, your presence. Share it with yourself, with your family, with the world.
Wherever You Go, There You Are: Mindfulness Meditation in Everyday Life
The CFM Global Online Meditation Community
These free weekly online sessions have been established to support worldwide graduates of the Mindfulness-Based Stress Reduction (MBSR) or Mindfulness-Based Cognitive Therapy (MBCT) programs and those with an interest in mindfulness meditation. Join us for a guided meditation, reflection, and discussion. * Excluding holidays.
In order to enjoy full functionality and to see everyone in our global community, we recommend using a desktop or laptop to attend, rather than a phone or tablet. For questions or more information: email us at mindfulness@umassmemorial.org or join our mailing list to stay updated about CFM programs.
From the UMass Memorial Health Blog
Latest News from Simply Well
A Message from our President and CEO
Forty years ago Jon Kabat-Zinn began seeing patients with chronic disease in the basement of our Medical Center. His hypothesis was simple - the practice of mindfulness could help alleviate the pain and suffering associated with chronic disease. Now, 40 years later, thanks to Jon's pioneering work, we know unequivocally that mindfulness can not only reduce pain and suffering but can also be used as an adjunct to standard medical care for a multitude of diseases and as a preventive measure to reduce the incidence of stress-related illness. The progress that has been made these last 40 years in our understanding of the power of mindfulness has been nothing short of remarkable.
UMass Medical School, our academic partner, has been at the epicenter of this progress and the leading provider of mindfulness training programs for decades. In 2019 it was decided that these training programs should transition to our health care system where Jon's vision began 40 years ago to allow for better integration with our clinical and population health programs. As an organization, we are on a journey to fully leverage the power of mindfulness to improve the lives of our patients, our caregivers and the communities we serve. We hope you will join us on this journey.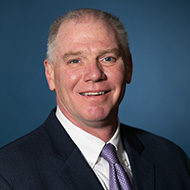 Dr. Eric Dickson is the President and CEO of UMass Memorial Health Care.