UMass Memorial Medical Center Community Benefits Program
Your health is important to us. UMass Memorial Medical Center offers you and your loved ones an extensive Community Benefits Program to keep you healthy.
Community Benefits Program at UMass Memorial Medical Center
The Medical Center's Community Benefits Program supports community health initiatives that address your unmet health needs through partnerships with a number of local human service organizations. Our programs include, but are not limited, to: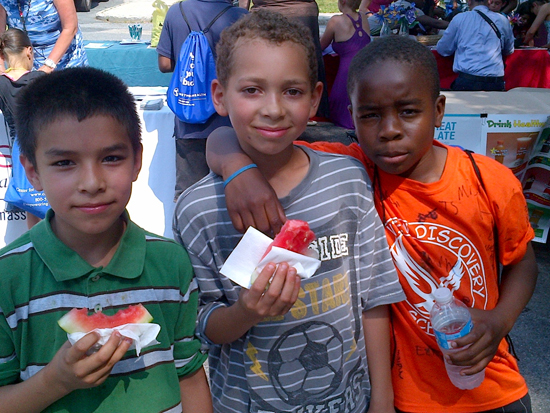 Mobile medical and dental services
Physical activity and fitness
Healthy eating
Youth development and violence prevention
Children's wellness and protection
Behavioral health services
Health services in low-income neighborhoods
Support of public health infrastructure
Read our FY2022 Community Benefits Report for the health care system.
Community Health Needs Assessment
The Medical Center conducted a Community Health Assessment (CHA) to recognize the health-related needs of residents, primarily in Worcester and the outlying communities of Shrewsbury, Millbury, West Boylston, Leicester, and Holden. Focusing on this geographic area aligns the hospital's efforts with community and governmental partners, including the city health department, other health providers and community-based organizations.
View the 2024 Community Health Needs Assessment that examines a range of health behaviors and outcomes, social and economic issues, health care access, and gaps and strengths of existing resources and services. The hospital welcomes input on the Community Health Needs Assessment and its Community Benefits Implementation Strategy. Please provide any written comments to Jennifer Delaney, Jennifer.Delaney@umassmemorial.org.
Assessing the Needs of Greater Worcester
We're also actively involved in community planning to help you improve your health and social and economic well-being.
The Medical Center partnered with Common Pathways, the City of Worcester Division of Public Health and a range of community stakeholders to develop a comprehensive community health planning effort. We gathered more than 150 people representing many different institutions and community organizations to create a Community Health Improvement Plan (CHIP). View the 2021-2026 Greater Worcester Community Health Improvement Plan (also viewable as an interactive webpage). 
The CHIP includes principle domain areas with specific, measurable objectives with the mission of advancing Worcester to become the healthiest city in New England by 2020. Through the CHIP process, we identified five priority areas that can help you and other community members achieve optimal health and well-being:
Healthy eating/active living
Behavioral health
Primary care/wellness
Violence/injury prevention
Health equity/health disparities
UMass Memorial Medical Center's Community Benefits priorities align with the CHA and CHIP. Click here to view the 2022-2024 Community Benefits Strategic Implementation Plan.
Read the full reports from these planning efforts: